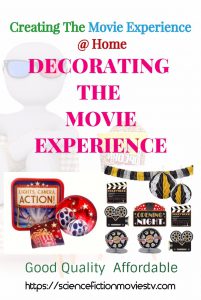 We have discussed in earlier articles how to create the best movie experience at home by investing in traditional or smart projectors, projector screens, speakers (sound bars, smart speakers and surround sound speakers), and Flat Panels. Now we are already at the last chapter for this season. Creating the best movie experience won't be complete without some snacks and drinks, right? Some people care about the presentation of snacks and drinks, others don't. I guess those who care it's because they want to create a special occasion. What would that presentation entail, you may ask?
Well, I think of cups, popcorn bags, plates, utensils, bowls, and decorations. So where can we find what we need? It depends on what you want for your movie night. Do you want to recreate the theater food experience?
Then you need some movie-branded items. In this article, we will provide some ideas for decorations. Here are a few suggestions to consider:
.
Hollywood Movie Party Supply Pack (8 Guests)
Make it a star-studded affair with this Hollywood Movie kit! It offers everything you need to create a perfectly coordinated table! Set Includes: 8 Dinner Plates, 8 Dessert Plates, 16 Napkins Serves up to 8 guests.
Features
Dinner plates feature a red carpet with Lights, Camera, Action wording;

Dessert plates feature a movie reel design;
Paper plates coated for durability and soak-proof moisture control.
It is the disposable tableware for your movie night experience. Entertaining and cleanup are a breeze with this set! 
.
Amscan Hollywood Movie Themed Party Decorating Kit (10 Piece)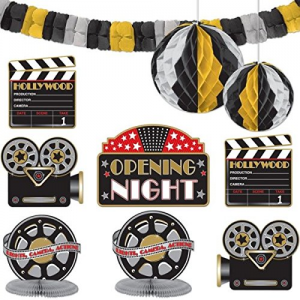 It's the opening of your movie night and the stars are all in place. Get the chance to decorate hassle-free with this fun-fabulous Hollywood Decorating Kit. Create a spectacular Movie Night Experience with this set that consists of an "Opening Night" cutouts, 3D centerpieces, a garland, and a whole lot more.
Features
Set the scene for your opening night. Hollywood Party Decorating Kit offers an array of themed Hollywood movie decorations in silver, black, and gold with red accents;

Made of paper and thick tissue paper;

Contains: (1) Paper Cross Garland,  (2) Honeycomb Balls, (4) Glossy Paper Cutouts, (1) Glossy Paper Cutout,  (2) Printed Honeycomb Centerpieces;

Available in packs of 10.
.
Final Thoughts
Of course, there are those talented people, who are able to create their own decorations. This is also a great idea to recreate for those people who like to create their own movie decorations or for those who want to learn to create. It would become a great bonding time for family and friends.
It was great exploring the options to create the movie experience at home for this season. I would encourage you to start your own project of movie experience @ home.
See what you need, what you like, and create your own amazing movie night. I hope you liked this series of creating your movie experience @ home. Feel free to leave your comments. I would love to hear from you.
In case you want to visit the previous posts of these series, here they are: