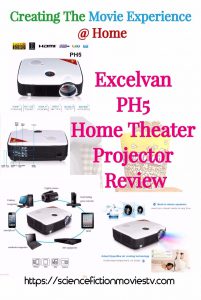 Watching Movies is something many people do. Watching movies at the theater is the traditional way of watching new movies until we were introduced to the streaming services.
Today we have the possibility to watch a movie release at home and therefore we have the possibility to create the movie experience at home. If you have space you hang out with friends and family, you can easily transform that place with a projector. There are expensive and less expensive projectors on the market. Then how did we find a suitable projector that fulfills our film watching needs? We looked for affordable projectors online and to be honest there are a lot of options.  So what did we look for?
We look for a projector that can be used with multiple media, has a good image output and of course, the projector should have an affordable price. Since it's the first time that we were going to try it, the majority voted to not invest much money in this experiment. After looking for a while we found one. Here comes the  Excelvan PH5 Home Theater Projector Review.
Features of the Excelvan PH5 Projector
The Excelvan PH5 Projector has a great lamp life for bringing movies to life on your own big screen. This projector is capable of creating a screen of up to 60 inches, perfect for a home movie theater. The LED lighting system projects a brilliant image onto your wall at a 2000:1 contrast ratio.
It's equipped with tons of features, including lantern slide, picture zoom, and 360-degree image flip or rotation. Connect your video game console or DVD player using the composite video RCA jacks, or plug in a USB-stick with music or picture files so you can play multiple players split screen games with ease share a movie on your own big screen or bring your digital pictures to life.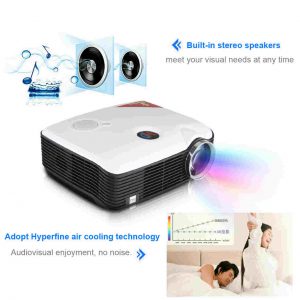 The keys for controlling the projector are located at the top of the device. The keys include the power key, a direction key, a source key and a menu key. The lens, located at the front, has a sensor on its side for the remote control and on its rights side are the vents that ensure the cooling of the projector.
Product specification of the Excelvan PH5 Projector
Model: PH5

Physical Resolution: SVGA (800×600), support 1080P
Plug Type: US
Input Voltage(V): 100v-260v(±10%)
Brightness (Lumens): 2600
Aspect Ratio: 4:3 and 16:9. Picture switch form 16:9 and 4:3
Image Size (inch): 40 to 120 inch
Video Formats: 3GP, MP4, RMVB, RM, MPG and AVI
Audio Formats: MP3, WAV and WMV.
Picture formats: JPG and JIF.
Ports: 2 x HDMI, 2 x USB 2.0, 1 x VGA, 1 X ATV, 2 x Audio Output, 2 X Audio Input, 1 x Video Output, 3 x Y/Bb/Pr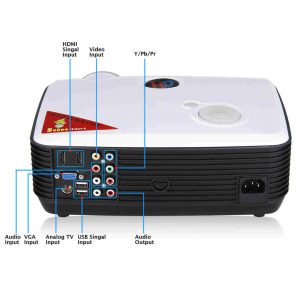 Speakers Included: Yes, built-in
Lamp Type: LED
Lamp Life (Hours): 30000Hours
Power Consumption (W): 120
Digital Keystone Correction: ±15°
Projector Type: Home Theater Projector
Connectivity Technology: Wired
Colors available: Black or White
Dimension(cm): approx. 28.5cm*23.9cm
Net Weight: 2293g
Projection Scheme: V69
Projection technology:  single LCD+LED
Contrast: 2000:1
Picture flip: 360-degree flip or rotation
Projection method: front/ ceiling
Keystone correction:  Vertical ±15 Manual keystone correction
Cooling: Hyperfine Air Cooling Technology
Brand: Excelvan
The package includes the projector, a remote control, a power adapter, a VGA Cable, an AV cable, a user manual and warranty card.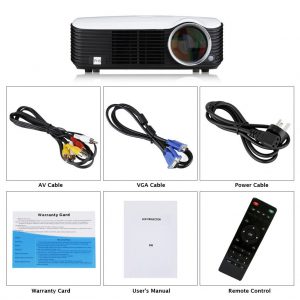 What we like about the Excelvan PH5 Projector
The advantage of LED lamp integrated into comparison to DLP is that it has very long held and also consumes far less power, no rainbow effect.  The 72W LED lamp has approximately 50,000 hours life, provides 2,000 lumens light output to make the rendering images much brighter with vivid color and clearer.
The HDMI port offers crisp image quality with good color saturation.  It also has a feature that ensures that the video is projected in rectangular form regardless of the position of the projector. with an LED lamp (), electronics zoom function and easy picture size change.
The projector doesn't make noise when it's in operation. It uses Hyperfine Air Cooling Technology that cools the projector with the least amount of noise possible.
What we don't like about the Excelvan PH5 Projector
The feature of inbuilt speakers was very important for us since it could save us some money with buying external speakers but for our room, the speakers didn't work as we expected. The built-in speakers were created for small rooms like bedrooms, for larger rooms you will need external speakers.
The projector is made of plastic and is durable as long as it's properly taken care of. But there are instances where the risk of breaking is high especially in an environment when you have kids running around.
Final overview and recommendation
If you are willing to try the home theater experience but you don't want to invest a lot of money in it the Excelvan PH5  Projector is a great option for you. This LED Projector is convenient to carry with a lightweight and portable design. It is perfect to use in bedrooms (3.0×3.0m). Once you are finished with your home theater experience, you can also use it at the office for your presentations or use it at home to watch old pictures.
Find the Excelvan PH5 Projector (White) at an affordable price (and a one year warranty here
Hope this Excelvan PH5 Home Theater Projector Review has been helpful to you? If you are familiar with this projector feel free to share your experiences. In case you have any questions or comments, feel free to leave them in the comment section below.