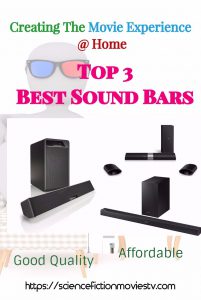 Continuing our quest into looking at how to create the movie experience at home, this time we will look into Sound Bars. But what are Sound Bars? This fast-paced world requires the best technologies and facilities to survive. The introduction of flat-panel TVs, multipurpose refrigerators, and other such things is the one to boost the quality of life of the people. The latest technology in this crowd would be the invention of Sound Bars.
.
Introducing Sound Bars
Sound Bars actually owe their existence to flat-panel TVs. The reason for its invention would be the fact that flat-panel TVs have very tiny built-in speakers, which are not even able to produce crystal clear sounds and dialogues, much less deliver convincing explosions, car crashes, and all the other mayhem which keeps us riveted by our favorite TV shows, and movies.
The goal of the Sound Bars is to provide the best sonic experience that is more closely matches the TV's lifelike images. Producers make an effort to find out the variety of best methods to achieve this goal, using the best technology and the best material to make them. They sound pretty much better and are a lot more efficient than the actual speakers accompanied to the TV – a lot better option. Sound Bars have faced increased popularity in recent years, and the types and numbers of models have exploded likewise.
.
Why Sound Bars?
A soundbar appears to be beneficial for its usage is simple and elegant. As a result, Sound Bars have become very popular. There are different situations, some more important than others, which require the constant presence of the Sound Bars.
If you're currently using your TV's built-in speakers: Even the highest of the highest quality flat screens tend to have small, low-quality built-in speakers, which are literally incapable of producing the powerful audio that will surround the area. A soundbar will complement the sound played on the TV without wasting a lot of setup time.
If you live in a congested place: A surround-sound speaker setup is bound to take up space, which can essentially be used for more important items. Sound Bars are designed to be unobtrusive and can even be wall-mounted if entertainment-center space is at a premium.
Budget-conscious: The surround-sound system setup can cost more and can eat up more space as well, which makes the Sound Bars the much cheaper and efficient choice for high-quality sound.
Advantages and Disadvantages
Sound Bars may be desirable and accessible to all, sure there are advantages but there is also an equal number of disadvantages as well.
Advantages
The drivers of the Sound Bars are pointed towards the audience, hence proving it to be advantageous in comparison to surround-sound systems or built-in TV speakers. Some of the types of Sound Bars available in the market often come with woofers and tweeters that execute the capability of handling low and high sounds respectively.
The active Sound Bars possess amplifiers that are built-in and hence are just required to be plugged in on the television and the sound produced will be like the one which you desired. Mostly, almost all the Sound Bars come along with wireless subwoofers.
 Disadvantages
The size of the Sound Bars can be a problem. Generally, Sound Bars are not that deep or tall, but they are large in width, which may give way to the placement problem of Sound Bars. Even if most of the Sound Bars require a lot of space, they can be wall-mounted. But this requires lots of one's energy, time, and money as well.
Also, there might be a problem with sound quality. Generally, the more expensive the soundbar is, the more is the quality of the sound better. But it can be said that the quality of sound emitted by speakers is somehow better than the sound of the Sound Bars.
.
Top 3 Best Sound Bars
Sound Bars can easily be found in a computer or electronic store. Also, a lot of online markets like Ebay and Amazon provide the selling and delivery of such Sound Bars. One characteristic of Sound Bars is that they can be quite expensive and we know that.
When looking at how to create the movie experience at home we try to look for products that won't leave you in great debt. Therefore we looked for the best Sound Bars that are not that expensive but are still of good quality. Here are the top 3 Best Sound Bars which are quality trusted, and brand efficient.
Acoustic Energy Aego Sound 3ar
An ideal choice for people yearning for a compact soundbar, Acoustic energy Aego Sound 3ar is a small unit that is so compact it can even double up as a sound system for your desktop PC.
Key Features include – Compact stereo design with active 65W subwoofer; Bluetooth with aptX; Optical and 3.5mm analog inputs.
Find your Acoustic Energy Aego Sound 3ar at an affordable price here
Philips Fidelio B5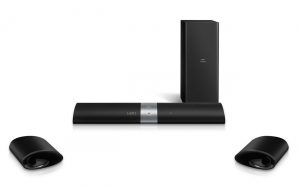 This special design is a unique, clutter-free TV speaker which delivers real surround sound at the environment.
Key features include Genuine surround sound; Detachable wireless Bluetooth speakers; generous features.
Find your Philips Fidelio B5 at an affordable price here
Samsung 2.1 Channel Sound Bar System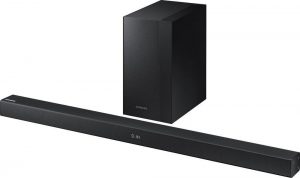 Soundbar adds a little extra goodness to your television's sound. This basic feature a 2.1 channel speaker system with both left and right both, to achieve balance and make the experience surreal.
Key features include Wireless subwoofer; True and efficient bass; Surround sound expansion for virtual surround setups.
Find your Samsung 2.1 Channel Sound Bar System at an affordable price here
.
Final Thoughts
Sound Bars are efficient reliable and beneficial for the crowd. Although they may have some issues, the advantages surpass the disadvantages, and hence that makes them the ideal choice if one wants to experience high-quality sound, all the while not compromising on the money issues.
We focused on brand and quality for our top 3 but we focus also on the price of the sound bards. In our search, we looked for soundbars between USD150 and USD450 that are of good quality and brand efficient.
If you don't really care about brands there are also less known Sound Bar brands that can do the job but they may have some issues along the way. Of course, you have also expensive brands like Bose (for those who can afford it) that delivers quality and brand recognition in the blink of an eye
Overall Sound Bars are great to help to create the movie experience at home. So, one should surely give such Sound Bars a try!
Hope these insights into Sound Bars have been helpful to you to assist you to create your movie experience at home. If you are familiar with any of these Sound Bars or any other Sound Bars feel free to share your experiences. In case you have any questions or comments, feel free to leave them in the comment section below.