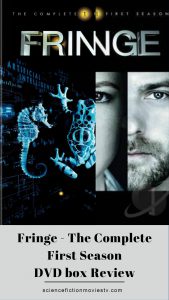 Is
 

Fringe -The Complete First Season DVD box set worth it?
Teleportation, mind control, astral projection, invisibility, precognition, spontaneous combustion, reanimation: these are among the peripheral sciences or "pseudo-sciences," examined during the first season of Fringe.  Watch the full first season (twenty episodes) on seven extras-laden discs.
The notion that those phenomena could have a genuine scientific basis is intriguing enough. But co-creator J.J. Abrams (whose bulging resume as a director, writer, and producer includes Lost, Alias, and the 2009 Star Trek feature film) had more on his mind.
Bonus features are many and varied; among the best are "Deciphering the Scene" (brief explications of key scenes in every episode) and "The Massive Undertaking" (detailing how certain special effects sequences were pulled off).
Product specifications
Actors: Anna Torv, Joshua Jackson, Lance Reddick, Kirk Acevedo, Blair Brown, Jasika Nicole with Mark Valley, and John Noble.
Format: Multiple Formats, AC-3, Color, Dolby, Dubbed, NTSC, Subtitled, Widescreen
Language: English (Dolby Digital 5.1), Portuguese (Dolby Digital 5.1)
Subtitles: English, French, Spanish, Portuguese, Thai
Dubbed: Portuguese
Number of discs: 7
Rating: Not Rated
Studio: Warner Home Video
Film Country: USA
DVD Release Date: September 8, 2009
DVD Region Code: Region 1 (U.S. and Canada only)
==> Learn more about the show <==
.
Products Pros and Cons
As with most things in life, DVD sets are not always perfect. Let's see what are the positives and negatives of this set.
Pros
Box & storage
The 7 Disc comes in a durable DVD plastic case that is stable enough to carry all seven-disc and has a secure closure to prevent dust entry. The case comes in a cool lenticular slip DVD box.
DVD
The DVDs have nice designs and the menu navigation is easy to deal with but what's shines the most are the special features on the DVDs. Not only does the Fringe Season 1 DVD set shine in bonus feature content, but in their production values, too.
Every episode has a "Fringe: Deciphering the Scene" mini-featurette breaking down one of the episode's huge set pieces; many also have deleted scenes and/or additional episode-specific featurettes.
Evolution: The Genesis of Fringe featurette – The creators of the show discuss how the series unfolded and the qualities that make it so unique.
Behind the Real Science of Fringe featurette – From teleportation to re-animation, Fringe incorporates recent discoveries in science. Consulting experts and scientists who are the authorities in their field address the areas of science that are the inspiration for the show.
A Massive Undertaking: The Making of Fringe (on selected episodes) – An in-depth exploration of how selected episodes came to be made: from the frozen far reaches of shooting the pilot in Toronto, to the weekly challenges of bringing episodes to air.
The Casting of Fringe- The story, as told by producers and cast, of how Anna Torv, Joshua Jackson, John Noble, and others came to be cast in the series.
Fringe Visual Effects featurette – Goes deep into the creation of the shared dream state with some of the biggest VFX shots of the show.
Dissected Files: Unaired Scenes Unusual Side Effects.
Gag Reel Fringe: Deciphering the Scene- a Roberto Orci Production Diary Gene the Cow montage.
Three Full-Length Commentaries from writers/producers, including J.J. Abrams, Roberto Orci, Alex Kurtzman, J.R. Orci, David Goodman, Bryan Burk, Akiva Goldsman, and Jeff Pinkner
Seriously, I have never seen so many bonus features in just one season. Usually, the TV show's first Season DVDs don't have much on them.
Video & audio
Audio and video are of the best quality.  The picture is widescreen, the sound is Dolby Digital 5.1.
.
Cons
It's really hard to say negative things about this DVD set, the Box is great, the video and audio are of the best quality. But nothing is perfect and this box isn't either.
My only complaint about it is how the extras are interspersed across the various DVDs.  While it makes perfect sense to match the deleted sequences and "anatomies of a scene" to the individual disc on which the corresponding episode is recorded, I found it very frustrating having to swap out numerous DVDs to watch all of the various featureless that deal with the series as a whole. Granted, they do give a spoiler warning but come on, that is just temptation for the Fringe watchers.
.
Personal experience
I am very glad I bought this set. I know there are people who don't really care about having DVDs anymore but call me old school but I like the feeling of ownership and having the choice the watch my favorite show wherever and whenever I want.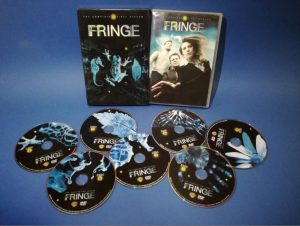 .
Final Thoughts and Recommendation
This is a special box set because of the lenticular slip. Be aware that there are sellers who are selling a season 1 package in a normal DVD case or box. That is not this set. However, it is your choice to choose which one you prefer.
Whether you want it as a collectible or just to have the DVDs, it's your choice. I obviously wanted it as a collectible and checked for a store where I was sure I will get the product that I wanted.
The rating for this box will be very easy, 100% for the Box & Storage and Video & Audio category. The rating for the DVD category will be 95%. I will take a few points from it because of the scattering of the extras across the DVDs.
I know it's not a big deal to other people but I found it really annoying and frustrating when I was watching. I'm sure that there are people who can easily ignore that play button (for them I'm sure the actual score will be perfect 100%) but I have to be honest I'm not one of them.
This brings us to an overall rating of 98% for the "The Complete First Season DVD" box set. Concluding, this box set is of great quality and I definitely recommend it.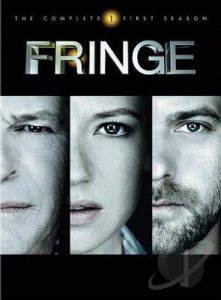 Overall Rating: 98%
Best Seller:  CDuniverse
Returns: 30 days Money back Return Policy
Guarantees: Safe Shopping Guarantee
Shipping: Usually ships in 1-2 days
==> Get your DVD box set and enjoy uninterrupted hours of Fringe <== 
I hope you enjoyed this review and if you have any questions about this DVD box set or want to leave your own personal experience with this box set, leave a comment below.