Is Fringe something for you?
Let's start from the basics, as they say.  Fringe is an American science fiction television show. J. J. Abrams, Alex Kurtzman, and Roberto Orci teamed up to create this supernatural (mystery) drama.
It aired on the Fox network from September 9, 2008, till January 18, 2013. The show ran for five seasons with 100 episodes.
One of the adjectives of the word Fringe is "unusual," which perfectly describes this TV show.
This is not the usual CSI or NCIS crime investigation style you're used to at all. In the story, the agents at the fringe division of the FBI under the supervision of Homeland Security will come across some very weird and interesting things.
And no, it's not an exact copy of the X-Files either but it may have some similarities where supernatural incidents occur and only a specialized task force is capable of dealing with them. It's more like CSI meets X-Files with some weird science beyond our imagination.
.
About the show
Fringe takes elements from Star Trek, the X-Files, the Twilight Zone & others and incorporates them all into one story.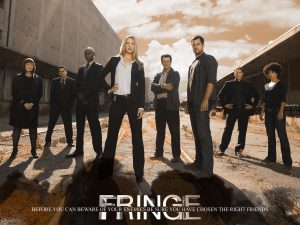 From parallel universes to time travel to human experimentation and even monsters the creator's incorporated everything they could in the story.
The show began as a traditional episodic mystery of the week but changed gradually as the show progressed.
Most of the episodes are thrilling and are full of mad science. You have to watch every episode to know what is going on.
Each episode shows the progression of the storyline as the mystery unfolds. You will never know upfront what's really going on, just as the characters in the show. But at the same time, you will get clues and hints to solve the mystery and every episode reveals a new lead.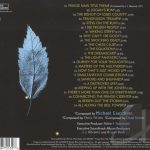 The ambient music influences how you perceive the scenes that would normally be tense already, and become completely chilling: another example of great "Sounds in Sci-Fi". The theme song of the show: Amazing!
When this show first came out it had very mixed reviews. But the bad reviews were the most prominent highlights in the media, most of the time comparing it to shows like Lost and the X-Files in a negative way. And this was after seeing just a few episodes.
Look, no show starts perfect but it seems that this is expected and that writers should get everything right from the beginning. Why? It's a creative process! Meaning that mistakes could happen during the process.
Contrary to what the initial negative reviews indicated and predicted the show got better and better. The show has a smart storyline. Clearly, it was a TV show that was ahead of its time.
.
Why season 1?
You have to start from the beginning. It sounds logical, right? But believe it or not many people have chosen not to start with season 1, mainly because of what's been said in the reviews, which was not a good idea.
As it's expected, with many shows, the first season starts building up the story (mysteries).
It's not that the first few episodes aren't good (they are), it's just that the story gets more interesting once the inter-connectivity of the occurrences of "The Pattern" takes form. In other words when the series makes the jump from feeling episodic to serialized. Once you get into that main storyline… it's great.
Getting into the first season you'll have to know that the main plot of the show is about resolving a big mystery. The story unfolds as the episodes progress. You should think of it as a big puzzle, you will need all the pieces to complete it. The story builds up to about mid-season when the plot gets more interesting.
Resolving mysteries and weird science is not everyone's preference. For that reason, I'll be doing a review of the first season DVD box set. Fringe is one of those shows that even if you're not into mysteries and weird science has many other layers that still attract people to watch it.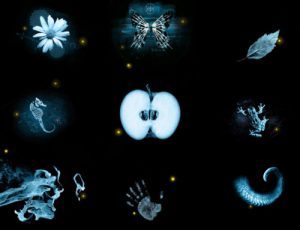 Now, why did I choose to start with season 1 and make a review of the DVD box instead of the whole series DVD set?
To be honest I fell in love with this season 1 DVD box.
It's a very unusual DVD box with inter-place images on the box cover and good DVD production value: a collectible for fans.
Don't get me wrong the quality of the whole series DVD set is great but the box design is simple compared to the box design of the individual seasons (especially season 1).  In other words, they have put more effort into the box design of the individual seasons and they look great. Of course, there are people who don't really care about box design and have no dilemma of buying the complete series.
.
How it all started…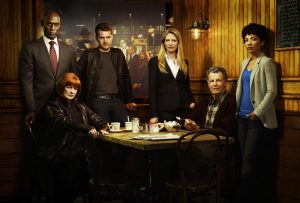 FBI agent Olivia Dunham (Anna Torv) and others on the Fringe Division, a joint federal task force of the FBI, came in to investigate some strange happenings aboard a jumbo jet.
It seems that these strange happenings are part of "The Pattern."
The Pattern is a series of similarly shocking events that unfold as the show progresses; lots of people are killed in graphic fashion by all manner of horrors, including scary monsters, a gas that freezes a busload of passengers, people so radioactive they can literally make your blood boil and so on.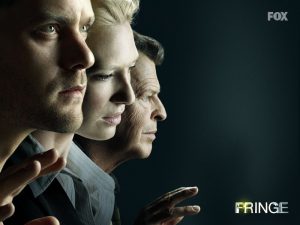 Institutionalized scientist Dr. Walter Bishop (John Noble), who's spent the past 17 years locked up, (and whose research may be responsible for some of the crimes encountered) and his son/babysitter/caretaker Peter (Joshua Jackson) will be helping Dunham and the rest of the team to figure it all out including handling family drama, interpersonal relationships, corporate evil, cop chases and so on. There's a lot in play here, and while it doesn't always hold together (and like any new series on their first season, it takes a while to get it right), Fringe keeps you on your toes while you're trying to figure out what is happening.
.
Final thoughts
Today, the show is still relevant and has been carried on in books and there have been several talks from the cast (which could be just rumors eventually) about the possibility of having it turned into a film franchise. The show's fan base has grown over the years as more and more people are having access to it on streaming services like Netflix.
The mythology of the show has drawn criticism but the quality writing was always good, you cared for these characters and it was so well made. Every episode unfolds something new (a new lead) but its main storyline also progresses. The storylines are intriguing. It really makes you think and some episodes are just so emotional. I personally liked John Noble's performance as Walter Bishop.
Fringe is not only about the strange and unusual, it's also about family, action, love, and humor. If you're into sci-fi, this show is an absolute must-see, it definitely crosses the line between sci-fi and reality. If you're not info sci-fi, there is enough material for you to enjoy. To anyone thinking of watching this fantastic show, I highly recommend it. It is also a great way to introduce sci-fi to some friends. 
What do you think of Fringe so far? Is it something you'll be interested in? Or are you already a fan? Feel free to leave your comments. I would love to hear from you.