When we are talking about projectors we have to talk about projector screens. It's true most people just used their walls, and it's a choice that is the most convenient. But the projector screen has its advantages and it has everything to do with better visuals.
Unless you have white walls in your home, the white surface of a projector screen ensures a better view of the movie. What kind of screen projectors are there, you may ask?
Let's start with the traditional portable stand up projector screen. Most of us know it from the old school (it was used for school presentations). This model is probably useful if you have enough space.
.
Portable Projector Screen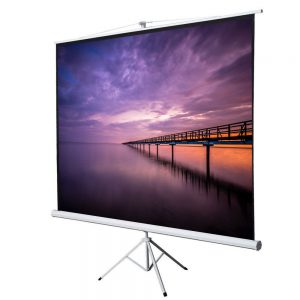 This is projector screen is of high quality matte white surface provides 87″ x 49″ of viewing area with 16:9 aspect ratio and black masked borders to provide a sharp, clear picture. The durable matte white surface is the premier choice when ambient light is controllable. It diffuses projected light uniformly, and you will find a perfect visual enjoyment with optimal image and color reproduction. Just enjoy the leisure time with your friends and families by using our projector screen here!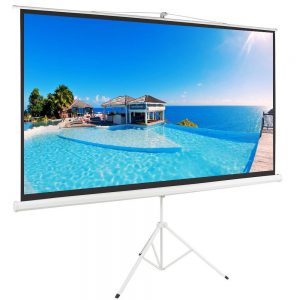 What's to like?
The projector has a washable surface with water and keep clean.
The portable & steady tripod installation design is very convenient for setting up.
The 16:9 screen format and diagonal 100″ offers 87″ x 49″ viewing area.
The high contrast 1.3 gain screen optimizes picture quality.
The matte white viewing surface diffuses projected light uniformly.
The 4-side black masking borders increase picture focus & contrast.
The black-backed screen material eliminates light penetration and the screen surface could wipe with mild soap or water.
The projector has  lightweight steel white housing for easy installation.
What's not to like?
Like the many projectors I have seen this one is of good quality but it's a little bit outdated to be honest. If you don't have enough space to place it in your room that this model is not for you. On the other hand if you do have room and you like this model, just go for it.
Specifications
Optical Technology: 1
Operation Type: Tripod
Screen Fabric Color: Matte White
Viewing Area (W x H): 87″ x 49″
Diagonal: 100″
Material: Steel & PVC & Fabric
Aspect Ratio: 16:9
Gain: 1:3
Viewing Angle: 160 Degrees
Folding Dimensions: 87.01″ x 7.48″ x 1.97″(L x W x H)
Weight: 19.40lb
The package includes one  100″ Tripod Projector Screen, Instructions and one Tripod Foldable Stand.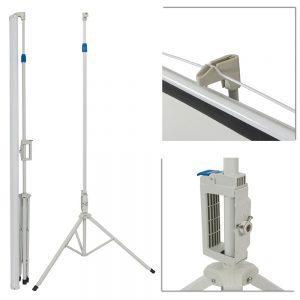 Find your Portable Projector Screen at an affordable price here
.
Electronic Projector Screen
But in case you don't have enough space you have the Electronic Model. This model can be placed on the wall on the preferred place of your choice in your home. This is the most convenient model because it can be rolled up, you won't even notice it.
What's to like?
New tubular motor provides a silent operation. 
The projector has a automatic switch or remote control operation: it has a power cord with integrated switch to regulate drop/rise settings or radio frequency remote control for distant control.
The projector features a durable casing that easily installs to your wall or cell. 
The Screen Materials are Matte White and it has 25 mm black masking borders to enhance picture contrast.
The projector has a 3 layer backed screen which eliminates light penetration and produces top quality color reproduction.
The New tubular motor is quieter and faster compared to others
The projector comes with a Remote control which makes it easy to drop or rise your screen. It Includes radio frequency (RF) remotes, 3-way wall switch and is plug and play ready.
What's not to like?
You will need some assistance with the installation. If you are not a handyman it will not be so easy to put the projector up in the air (well it's not complicated either) but if you are like me you will look for someone to install it for you.
Like it is customary with most electronics the remote does not include the batteries so you will have to purchase those in advance.
Specifications
Operation Type: Electric Remote
Screen size: 96″ (W) x 72″ (H)
Diagonal: 120″
Aspect Ratio: 4:3
Gain: 1.3
Viewing angle: 160 degree
Black Masking Borders: 25 mm
Mount Type: Ceiling/ Wall
Clean: Washable with soap and water
Item Weight: 14.9 lbs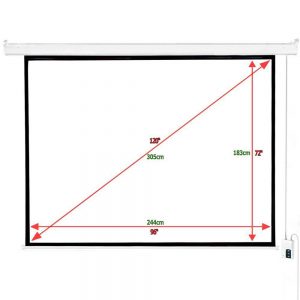 Find your Electric Projector Screen at an affordable price here
.
Hanging Projector Screen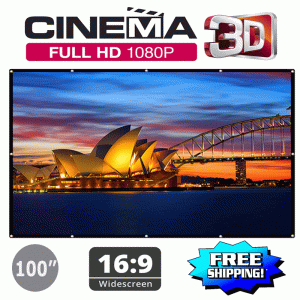 The final model we will mention is the hanging projector screen. It's made from fabric and is set up with ropes that go through the openings at each corner. Once its setup you will have your big screen to watch your favorite movie. This model is also practical to use indoors or outdoors on occasions when you spontaneously need a projector screen. The use of this model has become very for its versatility popular and is the most sold projector screen model. The Projector is made of  high quality cloth material. Smooth surface exhibits a flicker-free display.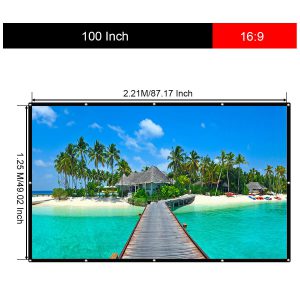 Besides, It has reinforced edges with grommets installed, which makes the projector screen convenient to carry and easy to set-up.
What's to like?
This unique projector screen allows you to set up quickly and easily on any tabletop. The screen exhibits excellent video display quality with high definition resolution,it is the most compact and travel. Since the white Cloth Projector Screen is Collapsible, the brand new product may have some wrinkles on the surface,but no need to worry about it, the wrinkles will disappear naturally after hung it up on a wall for 1 or 2 days.
This projector has a lightweight and compact one piece design, perfect for handheld projectors. The 16:9 screen format and diagonal 100, which offers 2.21M*1.25M (87 x 73.6) viewing area. The lockable system instantly expands for easy installation and disassembly. Cloth screen material eliminates light penetration and can be spot cleaned but don't use abrasives.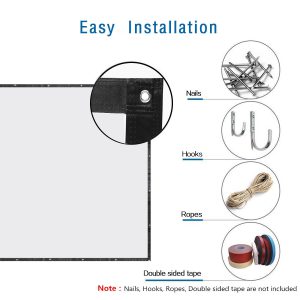 What's not to like?
This model is so practical to use and it is very hard to find something wrong with it other than the cleaning and maintenance of it. Just make sure you lace it in a clean and dry cupboard.
Specifications
Diagonal Measurement: 100 inch
Screen Area:  2.21M*1.25M ( 87″ x 73.6″ )
Screen Format: 16:9
Screen Material: Cloth
Package weight: 0.9kg
The package includes one Projector Screen and one Screen Bag (Gift).
Find your Hanging Projector Screen at an affordable price here
Final Thoughts
Hope these insights into Projector Screens have been helpful to you to assist you create your movie experience at home. If you are familiar with any of these projectors feel free to share your experiences. In case you have any questions or comments, feel free to leave them in the comment section below.