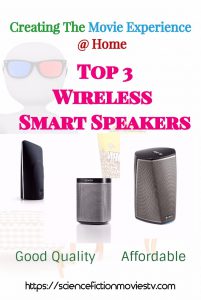 The development of new technologies has also brought the greatest of great inventions in the field of audio technology as well. Starting from large pieces of equipment taking days to set up, people are now finding themselves in the luxury to listen and enjoy music without even moving a muscle. Owing to such developments, wireless smart speakers have been invented as well.
.
Introducing Wireless Smart Speakers
Wireless smart speakers are those which come with wireless connectivity so that you can enjoy music without the tension of tangled wires and loose sockets. Wireless audios have different types of connectivity available today, the most popular are Bluetooth and Wi-Fi.
Bluetooth speakers are easily portable, for they depend on batteries to function. But have continual issues regarding connectivity range and pairing with one device at one time.
Wireless audio might have been around for a long time, however, in the past few years, Bluetooth has been replaced by the new favorite – Wi-Fi. It has happened because Wi-Fi delivers the same, maybe better, basic convenience as Bluetooth i.e. you can use your phone to play music over an eternal speaker or sound system. Same as Bluetooth, it also works with subscription apps such as Spotify, Apple Music, or Sound Cloud, along with radio services like TuneIn or Pandora, or even better – your own personal collection.
However, Wi-Fi sounds way better than Bluetooth, because of the better and enhanced range, and the fact that it doesn't take all of your phone's audio channel, unlike Bluetooth. Wi-Fi, as a result, can help you take a call without interrupting the playing song, which proves to be very useful when you have your phone connected to speakers in a party. It is also great for multiroom audio, as it allows you to playback from multiple speakers available, and all of this by just a single phone app.
Other types of connectivity are AirPlay, NFC (Near Field Communication), or DLNA (Digital Living Network Alliance), which are not in as much use as compared to Wi-Fi or Bluetooth.
.
Pros and Cons
Every little technology comes with its own set of pros and cons. Then, why would these wireless speakers be an exception to this rule?
One of the main advantages of wireless speakers would be fewer wires one has to deal with when handling them. The central unit needs to be connected through, but once it is done, you're set to enjoy the 'wireless' state. The satellite speakers themselves operate via radio or infrared transmission as well. With a wired system, however, you can easily end up with a maze of speaker cable strewn about your floor.
The second best advantage of a wireless system is the newest wireless technology itself. The newly enhanced tactics used in the making of wireless speakers make it produce high-quality sound, and comes with a better surround system.
The cons are few but still important to note. While some smart speakers use state-of-the-art infrared technology to help transmit signals, some older versions, or with low price models can interfere with other signals moving through a house, even including cordless phones, Wi-Fi equipment, or microwaves, for that matter, thus resulting in low sound quality.
The cost of these wireless speakers can be quite expensive. Not necessarily that it is a disadvantage, but for some consumers, it is hard to buy such expensive models. Also, even after claiming to be wireless, they are never really devoid of each and every wire. In other words, wireless surround sound speakers may still require a number of wires to function properly.
.
Top 3 Wireless Smart Speakers
Now that we know the pros and cons here are the top three best, affordable speakers
  1. Wireless Smart Speaker (A2)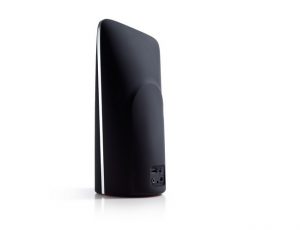 These wireless smart speakers come with the best features and emit the sound of high quality. However, it does not come with a rechargeable battery, which makes it the ideal speaker to feature permanently in any room of your house. You can stream all your audio from any electronic gadgets, including iPad and iPhone as well.
Features include – AUX input; 2.4 GHz transmission frequency; 0.2% distortion; up to 40m operation distance, among others.
==> Find your Wireless Smart Speaker (A2) at an affordable price here
2. Sonos PLAY:1 Wireless Speakers
These PLAY 1 speakers from Sonos go anywhere to deliver clear, room-filling surround sound. The 1.0 channel system is specially designed to provide the best quality sound while remaining lightweight, easy, and flexible to move around the house. The speakers are trendy and sophisticated, making it the best choice for everyone.
Features include – Wireless speakers as well as wireless connectivity; 50Hz – 60 Hz frequency responses; not including subwoofer, among others.
==> Find your Sonos PLAY:1 Wireless Speakers at an affordable price here
3. Denon HEOS 1
The Denon HEOS 1 is one of the first portable, waterproof Wi-Fi speakers ever designed. This speaker sounds good and offers more flexibility than any other speaker at such a low price.
Features include – Waterproof speakers; Compatible with apple as well as android; easy USB input, among others.
==> Find your Denon HEOS 1 at an affordable price here
Now, these are some of the affordable brands next to the very well-known Amazon Echo speaker series (Echo, Echo Dot, and Echo Plus).
.
Final thoughts
With such a big package of features compressed in such beautiful and small equipment, why choose another? These speakers are wire-free and play music without any worry, intervention as well as hassle-free, making it the ideal choice for each and every person, music-lover and non-music-lover alike. And of course are perfect to use when watching movies at home.
If you are familiar with any of these Wireless Smart Speakers feel free to share your experiences. In case you have any questions or comments, feel free to leave them in the comment section below.