This is the third installment in the series "4 easy ways to introduce Sci-Fi to your friends". One of the easiest ways to get someone into science fiction is with an invitation to watch movies at home or in the theater:
Movie night? Yay!
Movie Marathon? Even Better!
Science Fiction has been somewhat stereotyped into space and horror sub-genres by many people. It is true that these are the most popular in the genre but they are not the only options.
In recent years many sub-genres of science fiction have resurfaced proving that the genre is not only about Monsters and Aliens. This does not take from their popularity as classic themes of science fiction.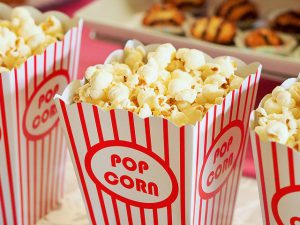 People have different reasons to go to the movies. The first reason is to watch a good content film and the other reason is to get good entertainment. Here are a few options for each category:
Another favorite is organizing movie nights with Sci-Fi themes. There are so many Sci-Fi variations today that everyone will get a favorite at some point. If you want some "serious" films to watch here are a few titles for you to choose from:
.
Children of Men based on P.D. James' novel is set in a world where no children have been born in two decades, and society has collapsed as humanity waits to die out. Theo (Clive Owen) is entrusted with transporting a young pregnant immigrant woman (Claire-Hope Ashitey) who is the first person in a generation to be so (1).
The cast includes Julianne Moore, Michael Caine, Chiwetel Ejiofor, Charlie Hunnam, Peter Mullan, and Danny Huston. The movie is funny, sad, exciting, political, and inventive (1).
Even though many critics dismissed it on release as being too bleak "Children Of Men" is a film about hope, and hope is what the world needs (1). It also shows that sometimes you have to take your chances and experience the movie for yourself (have your own opinion) instead of blindly going after what critics say. You may miss something great.
.
Proving once again that some of the greatest sci-fi happens when the genre crosses with another, or several others, Spike Jonze's lovely, intimate film "Her" is just as much an indie love story and a journey of self-discovery as it is a traditional sci-fi movie (1).
Starring a Joaquin Phoenix in one of the finest performances of an already stellar career, it also features voice acting work from Scarlett Johansson that is so evocative we remember the Operating System she plays (Samantha) as being as real as she is to Phoenix's Theodore, one of the only times a voice-only performance was considered as potentially awards-worthy (1).
It's a film marked out by its unusual grace in recognizing how, in the face of our growing dependence on technology, we are somehow more human than ever (1).
.
In these days when the phrase "based on a comic book" has more or less become a guarantee of a plasticky, soulless "product" rather than a film, it helps to remember that it also describes Bong Joon-ho's magnificently weird "Snowpiercer"(1).
As was its French-language source ("Transpierceneige"), the film shows the class struggle as the survivors of a ruined civilization live aboard a train speeding through a dystopian land of snow, the rich literally separated from the poor.
Featuring a great cast consisting of Chris Evans, Octavia Spencer, and Tilda Swinton in its large international ensemble, the film is one of the most original sci-fi films ever to see the inside of a multiplex, however briefly.
It had a rough time in the theater, but as the visionary Bong's biggest film to date, the tales of its troubled journey to an undersold release in theaters feel like they will only contribute to the film's growing status as an underseen classic (1).
.
Timecrimes: a devious, tightly plotted, and frequently surprising little picture with a sly sense of humor. The set-up sees Héctor (Karra Elajalde) go out to investigate a nude neighbor when his wife leaves the house, only to be stabbed by a mysterious bandaged figure, and then discovering that a scientist has built a time machine that can send him an hour back in time (1).
In its low-budget ingenuity, it follows not just something like "Primer," but also films like "Memento," "Pi," and even "Dark Star," giving the film scope and scale that belies its limited setting and cast (1).
---
 Want to know more about time travel?

---
Sometimes you just want good entertainment to forget about your stressful day (sounds familiar?). If you want entertainment and fun here are some movie titles for you:
.
.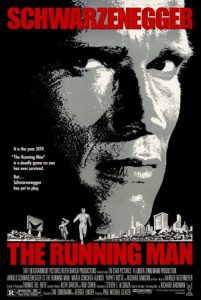 Following the eponymous novel by Stephen King, the plot tells the story of the wrongly convicted for a massacre Ben Richards who is forced to participate in a highly popular reality show on TV, called "The Running man".
In this show, convicted criminals are given the opportunity to fight for their freedom. In order to achieve that, they must face different "stalkers"-men who hunt them all over the city with various deadly weapons.
One must admit that the director has put successful efforts in his desire to recreate the futuristic, catastrophic, and totalitarian society, developed by Stephen King.
.
.
.
Total Recall takes place in 2084. It tells the story of the ordinary worker Douglas Quaid who has dreams about going to Mars. His hot wife Lori (look how sporty Sharon Stone is) makes everything possible to dissuade him.
Douglas ends up in a company called "Recall" that sells memory implants for virtual vacations and he purchases a trip to Mars.
Once the memories are inserted in his muscular head, he remembers that he is a secret agent with a mission to the red planet, fighting against an evil dictator. From this moment, the action begins and Douglas goes to Mars on a brave endeavor and faces a lot of troubles.
.
.
Set in the futuristic world of the 21st century, where the world has been destroyed by a deadly plague, the only hope for humanity is a mercenary called Gibson Rickenbacker whose family was slaughtered by a gang known as the Pirates, led by the vicious Fender.
Driven by egoistic feelings, Fender kidnaps a cyborg- a young female woman who holds precious information about a potential cure for the plague and sends her from New York to Atlanta, where a group of scientists is expecting her in order to create the cure.
.
.
.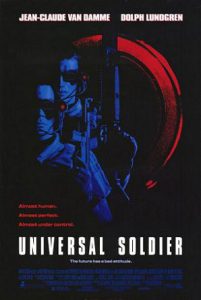 The year is 1969, wartime. Luc Deveraux and Andrew Scott are American soldiers in the Vietnam War who kill each other in a frantic quarrel, in the heart of the Vietnamese jungle. Their corpses are later cryogenically frozen.
Several decades later, both men's bodies are genetically regenerated with their memories erased. Now they are GR44 and GR13- half men, half robots who are selected for the "Universal Soldier" program- a government counter-terrorist unit specializing in hostage situations.
True they are old movies but with good entertainment. And I think they are suitable for someone who has never seen a sci-fi film before. Hard to imagine someone who has never seen Terminator but if you haven't I would recommend that too.
.
---
The above 4 film descriptions were courtesy of Funny Action Movies. Enjoy the popcorn! 
Want to check out the previous installments of this series?  Part 1  "Books" &  Part 2 "Video Games"
---
What did you think about the recommendations? Do you have a few of your own? Will you consider watching some of these movies or did you already watch them? Feel free to leave your comments. I would love to hear from you.
References/Sources