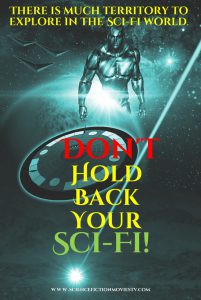 There is much territory to explore in the Sci-Fi world. When talking about Sci-Fi I noticed that many people relate Sci-Fi only to space battles and monsters and are quick to negatively judge or dismiss it, which is not completely fair. I also noticed that some people are just hesitant to admit that they like the genre.
Sci-Fi is not only about space battles and monsters. Those may be the most popular themes in the genre but they are not the only options to choose from.
You would be surprised at the type of movies you'll encounter. However, there are people who quickly dismiss Sci-Fi, not knowing that it's not that bad to begin with. See the positive sides and get to know Sci-Fi before you start judging it. Here are a few positives:
.
Distraction
The inventive stories will distract you from the daily stress and routines. This benefit is the main reason many people turn to the Sci-Fi genre.
.
Themes for ongoing dialogue and conversation
There are a variety of movies and TV shows that are just simple and fun. But there are others that come up with specific themes or are intellectually challenging which may pave the way to initiate a conversation.
.
Stimulation of your thinking process
Movies and TV shows come often with certain topics or show certain scenes that are usually not openly discussed and leaves the audience thinking about them which later creates the possibility for a more open discussion.
.
Integration into fandom
Each movie or TV show has its group of fan-followers. If you connect with a particular movie or TV show, rest assured that you will find other people who watched it and with who you can chat, exchange ideas and discuss it.
.
Inspiration and creativity
Themes and scenes in movies and TV shows often become an inspiration for other people to move forward in life. For others, these themes and scenes become muses that help create new art forms.
.
Final thoughts
Sci-Fi is so much more than just space battles and monsters. Even though they have an important place in the genre, you will find that climate change, social issues, and even romance have a place in this genre.
So don't be so quick to dismiss it but rather take a moment to explore all the available options. I am sure you will find something of interest to you and when you do find it, share it with your friends.
I am curious to know what you think of Sci-Fi. What do you think about the positives of watching Sci-Fi? Feel free to leave your comments. I would love to hear from you.