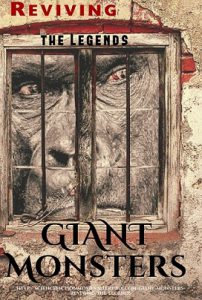 With so many new giant monsters movies in the pipeline, the trend of sci-fi horror continues strong. "What movies?" you may ask:
King Kong: Skull Island (2017)
Pacific Rim: Uprising (2018)
Godzilla: King of Monsters (Godzilla 2) (2019)
Godzilla vs. Kong (2020)
The first movie of the group to be released is King Kong: Skull Island. From the trailer, we get a glimpse into unknown territory that a group of people will go into not knowing what awaits them there.
King Kong and Godzilla
We have always known King Kong as the big ape but in this trailer, you see it in bigger proportions. It's impressively giant and scary. It shows how filmmaking and CGI developed through the years.  Just compare the existing King Kong films and you'll see want I mean.
This movie trailer gives me great expectations for Godzilla. Based on the title of the movie I expect it to be bigger than Kong. Well, it has the title "God of Monsters" so I expect it to hold up to it.
The battle between Godzilla and Kong has been done before a long time ago. Will it end the same? Since Godzilla has a god title I'm expecting it to have a bigger chance at winning. But you never know maybe Kong can still take him down.
Pacific Rim
Now let's talk a little about Pacific Rim. The first movie released in 2013 was ok. I was familiar with the concept of the movie because it was similar to an anime I saw a few years back (Neon Genesis Evangelion).
To give you an idea about Pacific Rim, it's about Giant Robots that were created to fight against monsters that were emerging from the sea. These Giant Robots were driven by human pilots. Pacific Rim: Uprising will be a sequel to Pacific Rim.
Using imagination
Here's a thought: what if after the battle between Godzilla and Kong the world is at risk because the winner is lose, ready to destroy everything on its way and Pacific Rim has to come to the rescue. Imagine the battle between a Giant Robot and Godzilla or Kong? In the past there were already a few versions of Godzilla battling a robot version of it but I guess here it will be different.
The History of King Kong and Godzilla
Now let's take a look at history at the classic giant monster movies so far. These are the of King Kong and Godzilla's movies made through the years:
King Kong
1933
King Kong
1933
The son of Kong
1933
Wasei Kingu Kingu
1938
King Kong appeared in Edo
1962
King Kong vs. Godzilla
1976
Queen Kong
1978
 By By Monkey
1986
King Kong lives
2005
King Kong
Godzilla
1954
Godzilla
1955
Godzilla raids again
1962
King Kong vs. Godzilla
1964
Mothra vs. Godzilla
1964
Ghidorah, the Three Headed Monster
1965
Invasion of Astro Monster
1966
Ebiran, Horrow of the Deep
1967
Son of Godzilla
1968
Destroy all Monsters
1969
All Mosnters Attack
1971
Godzilla vs. Hedorah
1972
Godzilla vs. Gigan
1973
Godzilla vs. Megalon
1974
Godzilla vs. Mechagodzilla
1975
Terror of Mechagodzilla
1984
The Return of Godzilla
1989
Godzilla vs. Biollante
1991
Godzilla vs King Ghidorah
1992
Godzilla vs. Mothia
1993
Godzilla vs. Mechagodzilla 2
1994
Godzilla vs. Spacegodzilla
1995
Godzilla vs. Deskoyah
1998
Godzilla
1999
Godzilla Millenium
2000
Godzilla vs. Megaguirus
2001
Godzilla, Mothra, King Ghidorah: Giant Monsters All-Out Attack
2002
Godzilla against Mechagodzilla
2003
Godzilla Tokyo S.O.S
2004
Godzilla Final Wars
2014
Godzilla
2016
Shin Godzilla
Obviously, Godzilla is the most popular. Its popularity is present mostly in Asia (Japan). With all the upcoming movies on the agenda, it will be exciting to see how to will promote them and how they will continue reviving the legends. Will you see all of them? Feel free the leave your comments. I would love to hear from you.