Who was the real man behind Spock and what does Spock means to his Fans?
For the Love of Spock is a documentary that explores the early start of Leonard Nimoy in the acting business and how he became the most iconic figure in science fiction. The documentary is presented by his son Adam.
The documentary contains interviews with the star, his family, his colleagues, and some of his fans (actors).
In addition, it portrays the values of the star and his relationship with fans. Many have identified themselves at one point in their lives as Spock: an outsider who choose rather than blending in to be himself and nothing else.
The work of Leonard Nimoy
It's amazing to see how much work was put into the character of Spock by Leonard: his  imagination, the complications he faced, and how the character and the actor evolved over the years.
One of the popular creations is the Vulcan salute created by Leonard Nimoy. In the documentary  Leonard explains the famous Vulcan salute which represents the Hebrew letter Shin , which has three upward strokes similar to the position of the thumb and fingers in the salute. The letter Shin here stands for El Shaddai, meaning "Almighty (God)". Further he mentions that when he was a child, his grandfather took him to an Orthodox synagogue, where he saw the blessing performed and was impressed by it.
In addition to acting he also directed "The Search for Spock (1984)" and "The Voyage Home (1986)". He also worked on the screenplay of "The Undiscovered Country (1991)".
In the documentary you will see interviews with a few members of the original cast and the current cast. And you will also see interviews  with the people that were inspired by the character of Spock.
The hope of Star Trek
Sadly enough we are still at the place of intolerance with each other. Compared to those years in which the series and the films took place, one would have thought at that time that humankind in the future  (like the 21st century)  would be more accepting & progressive.
In a sense Star Trek provided a view of what the future could be. But clearly we are not there yet. So many lives are being lost daily because of intolerance of race, religion & beliefs. Hopefully one day we will see the countries working together like the crew of the enterprise for the greater good.
Conclusion
The relevance of the character of Spock will continue for many years. The concept of all races working together is beautiful concept that should stay alive and hopefully one day become a reality. Ending this piece with the significant Vulcan salute: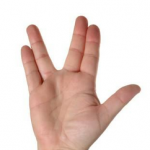 Do you agree? What did Spock or Star Trek mean to you? Did you see the documentary? Have not seen it yet?  Feel free to leave your comments. I would love to hear from you.