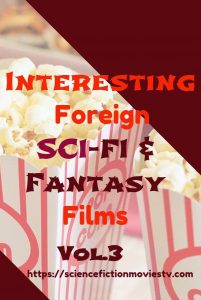 The road so far has been interesting and promises to stay that way. What are we referring to you may ask?
We're talking about foreign movies, more specifically science fiction and fantasy films. There are so many interesting foreign movies for the world to see.
The Diversity in movies today is amazing but they are not recognized. People want to look at interesting movies other than the traditional big-budget flicks but how can you plan to watch a movie you are not even aware of?
Well, that's why we started this series of Interesting Foreign Sci-Fi and Fantasy Films where we put the spotlight on interesting foreign movies. We've already discussed 10 foreign films in our previous posts Vol.1 and Vol.2".  As we continue to look into more Foreign Films, here is the next batch of 5 interesting Foreign Sci-Fi and Fantasy Films:
.
1. The Host
Movie original title: 괴물
Release year: 2006
Movie Genre: Fantasy/Horror
Country: South Korean
Language: Korean
The Host tells the story of how a man's daughter gets kidnapped by a creature, a river monster, and that man's attempt to rescue his daughter.  Directed by Bong Joon-Ho "The Host" premiered at the Cannes Film Festival on May 21, 2006.
The Host received critical acclaim and was a commercial success. The special effects used in the movie include animatronics and CGI. The creature was designed with some specific parameters. The design was inspired by a local article about a deformed fish with an S-shaped spine caught in the Han River thus like an actual mutated fish-like creature.
The film was in part inspired by an incident in 2000 in which a Korean mortician working for the U.S. military in Seoul dumped a large amount of formaldehyde down the drain. There is certainly a metaphor and political commentary about the U.S.". The film received several award nominations and won several awards including Best Film at the Asian Film Awards.
.
2. Timecrimes
Movie original title: Cronocrimenes
Release year: 2007
Movie Genre: Sci-Fi Time travel Thriller
Country: Spain
Language: Spanish
For those who follow SFM&TV blog posts, this particular film should be familiar to you since it was mentioned in "4 easy ways to introduce Sci-Fi to your friends Part 3".
Timecrimes tells the story of Héctor, played by Karra Elejalde, who goes to investigate a neighbor. He gets stabbed in the arm by a mysterious man with pink bandages on his face. Hector contacts a scientist, who warns him of the bandaged man. The scientist convinces Héctor to hide in a large mechanical device. When leaving the machine Héctor discovers that he has traveled one hour back in time.
The story was inspired by Alan Moore and David Gibbons Chronocops #310 (1983) 2000 AD Comic magazine. The film stars Kara Elejalde, Nacho Vigalondo, Candela Fernández and Barbara Goenaga. The film released on September 20, 2017, at the Fantastic Fest, in Austin Texas (United States).
The film received many positive reviews. Many praised the cinematography and the storytelling. Others applauded the filmmakers for managing and creates a good sci-fi story with a low budget. Something that's usually difficult to achieve even with a big-budget film.
.
3. Cargo
Movie original title: Cargo
Release year: 2009
Movie Genre: Sci-Fi/Thriller/Mystery
Country: Switzerland
Language: German
In the year 2270, the earth has become uninhabitable because of an ecological collapse. Those that have money move to fictional planet Rhea but most of the population lives on overcrowded space stations in Earth's orbit.
The young doctor Laura Portmann, played by Anna Katharina Schwabroh, is one of them. She hopes for a better future alongside her sister on the distant planet Rhea, but to get there, she needs money. She signs up with Kuiper Enterprises for a job on the decrepit cargo ship Kassandra.
The crew on Kassandra consists of Captain Lacroix (played by Pierre Semmler), Lindbergh (played by Regula Grauwiller), Yoshida (played by Yangzom Brauen), Prokoff (played by Claude-Oliver Rudolph), and Vespucci (played by Michael Finger). Not everything is what it appears to be on Kassandra and it's up to Laura to figure it out.
Cargo is the first major feature film produced and directed by Ivan Engler. The film was released on September 24, 2009. The film received mixed reviews with many praising the visual effects and cinematography of this low-budget project.
.
4. OMG-Oh My God!
Movie original title: OMG-Oh My God!
Release year: 2012
Movie Genre: Fantasy/Comedy/Drama/Musical
Country: India
Language: Hindi
The film is based on a Gujarati stage play "Kanji Virudh Kanji" and the Australian motion picture "The Man who sued God" (2001). The film tells the story of a middle-class Hindu atheist Kanji Lalji Mehta, played by Paresh Rawal, who owns a shop selling Hindu idols and antiques in Mumbai.
When an earthquake hits the city Kanji's shop is the only one that is destroyed. He later learns that his insurance doesn't cover natural disasters classified under "Act of God". Kanji decides to sue God but he didn't find a lawyer for that kind of lawsuit. In the end, he finds a lawyer from a poor Muslim family and hires him. The insurance company along with some religious priests (as representatives of God on earth) receive a notice to appear in court.
The film received critical acclaim for being a thought-provoking adaptation of a sensitive and untouched subject, the misuse, and commercialization of religion, with a clear social message. As it is based on an untouched subject matter the filmmakers were faced with resistance: from being sued for hurting religious sentiments of Hindus to death threats.
Fortunately, the film became a commercial success in the long run showing that the audience was interested in seeing the film. Sadly the movie was banned in the United Arab Emirates for its sensitive content which is unfortunate. Nonetheless, the film won the award the Best Adapted Screenplay at the 60th National Film Awards. The film brings up an interesting and serious topic for discussion.
.
5. The Incident
Movie original title: El Incidente
Release year: 2014
Movie Genre: Sci-Fi/Thriller
Country: Mexico
Language: Spanish
The Incident is a mind-bending sci-fi story that will require your full attention to detail. The film tells two parallel stories. The first starts with an ancient woman in a bridal gown that lies on a staircase with a helpless look on her face. The story moves to two brothers and a detective locked on an infinite staircase.
Things only get worse when the trio discovers that the building seems to suddenly have no exit, with the bottom floor descending to the top one and the top floor ascending to the bottom.  The second story is about a family that is going on vacation. While driving down a long, straight, road, they too hear a loud noise, and soon discover that no matter which direction they go, they are on the same stretch of road.
The parallel narratives stories are like two sides of the same coin by being connected yet separate and feeding back into themselves.
This is the first feature-length film for writer/director Isaac Ezban. Ezban used repetition, the time loop concept, and other devices to create a movie that demands all viewers' attention. The film stars Raúl Méndez, Magda Brugengheim, Humberto Busto, Erick Trinidad Camacho and Santiago Mendoza Cortes.
The film received positive reviews. Many praised the impressive cinematography managed with a low budget to create this film feature, the soundtrack chosen for the film, the brilliantly written screenplay, and the great performances. Some described the film as an ultra-dark remake of Groundhog Day and we can understand why.
Final Thoughts
There you have them, another batch of interesting films to see from South Korea, Spain, Switzerland, India, and Mexico. Have you ever watched any of these already or the ones mentioned in the previous posts Vol.1 and Vol.2? Regarding foreign films, it is sometimes difficult to find interesting films but there are many out there, they just need a little bit of spotlight on them.
If there is a foreign movie that you've watched and found interesting feel free to share it with us. We may include it in this series of interesting foreign films and you don't have to worry the next batch of interesting foreign films will be coming soon.