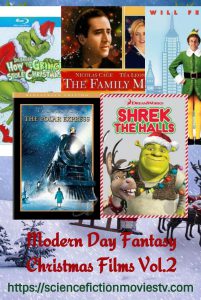 Continuing with the search for more modern-day fantasy Christmas films we will look into films that were released during the first decade of the 2000s. Here are some interesting titles:
.
Based on the 1957 story "How the Grinch stole Christmas by Dr. Seuss, this was the first full-length film adaptation of the book. The story is centered on the Grinch, who hatefully resents Christmas. He occasionally pulls dangerous and harmful practical jokes on the people who enjoy celebrating Christmas.
The film was well-received by the audience which made it a Christmas favorite really fast. In addition, the film won the Academy Award for Best Makeup and was also nominated for Best Art Direction and Best Costume Design.
.
A man who is only focused on making a career gets to see what his life could have been if he had made a different decision many years ago. It is a heartfelt feel-good holiday movie that wants to prove that everyone needs love and that material things are not as important as they seem. The film was successful at the box office and well received by the audience.
.
The story is about one of Santa's elves who learns about his origins and goes to New York to meet his biological father. As one of Santa's elves, he loves to left up the Christmas spirit and Christmas cheer around him but he gets confronted with a world of non-believers and cynics. The film was a financial success and received positive reviews.
.
A boy who is beginning to question Santa's existence boards a train known as "The Polar Express" that is going to the North Pole on Christmas Eve. During his journey, he will have magical adventures where he learns about the spirit of Christmas, bravery, and friendship.
The film is a 3D computer-animated Christmas musical fantasy film (a mouthful right?) that was listed in the 2006 Guinness World Book of Records as the first all-digital capture film.
.
Shrek does his best to enjoy the holidays for the sake of Fiona and plans a cozy family celebration. Unfortunately, everyone seems to have their own ideas about what Christmas is all about, and when they try to join in the fun, Shrek's plans end up changing creating an unforgettable Christmas.
The film is a television special set shortly after the events of "Shrek the Third" and before the events of "Shrek Forever After." Easily made by the audience into a Christmas favorite and the soundtrack is absolutely entertaining. Try singing the 12 days of Christmas "Shrek" style with family and friends.
.
Final Thoughts
Now I would like to hear from you: Which of these movies have you seen already? Are there any fantasy Christmas movies from the early 2000s that were not mentioned but are favorites of yours? Feel free to leave a comment in the section below.