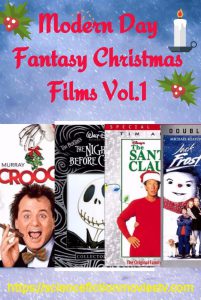 In addition to the Classic Christmas Movies we previously discussed, there are also modern day Christmas movies we could watch during the holidays. Cool right? Then what are considered modern-day Christmas films?
Basically, all movies after the nineteen-eighties until now are considered modern-day Christmas films. Here are a few titles to consider:
Let's start with a well-known film based on Charles Dickens's story "Christmas Carol" titled "Scrooged". It is basically a modern take on the story. The character Ebenezer Scrooge is represented in the modern story as a television network president called "Frank Cross" (played by Bill Murray).
The movie was well received by the audience and was a commercial success thanks to the marketing strategy of using the image of Bill Murray, who had played in the successful film Ghostbusters. The film was nominated for the Academy Award for Best Makeup and is a Christmas favorite of many across the globe.
Halloween meets Christmas. Sounds crazy right? This stop-motion animated musical dark fantasy film tells the story of Jack Skellington, a resident of Halloween town who accidentally goes into Christmas Town. He gets inspired to celebrate Christmas which doesn't go as smartly as he planned.
The film was well received and was a commercial success. It made history when it was nominated for Academy Awards for Best Visual Effect, making it the first time an animated stop-motion film received such a nomination.
Scott Calvin (played by Tim Allen) accidentally causes Santa Claus to fall from his roof and help him finish his deliveries. After he completes the job he learns that he must become the new Santa.
The film was well received by the audience and the critics and is the first installment of the Santa Claus trilogy. As it is very common in trilogies the first installment is way better than the rest.
This Christmas fantasy comedy-drama film tells the story of Jack Frost (played by Micheal Keaton), the lead singer of the Jack Frost Band, who dies in a car accident and comes back to life as a snowman.
It didn't do great at the box office and did not receive great reviews but that didn't stop the audience. The film is a Christmas favorite of many as the year went by and more people watched it.
As you may have noticed we started first with films from the eighties and the nineties. In the upcoming articles, we will look into movies from the 2000s.
Now I would like to hear from you: Which of this movies have you seen already? Are there any fantasy Christmas movies from the eighties or the nineties that were not mentioned but are favorites of yours? Feel free to leave a comment in the section below.