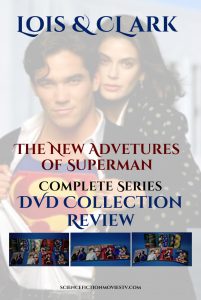 Overall Rating: 85%
Genre: Action/Adventure TV Show
Best Seller: usa-deals-are-us
Returns: 30 days Return Policy
Guarantees:  ebay Money Back 
Shipping: Free shipping
Product description: All 4 seasons are available on 24 Discs in 4 DVD boxes including some special bonus features like The Original Pilot Presentation, Marketing Metropolis: The Fans of Lois and Clark, Lois & Clark: a history of romance, The Man of steel trivia challenge (hosted by Dean Cain), The Kryptonian Kronology (Dean Cain hosts an interactive history of Superman Timeline) and The Justice League Heroes Video Game trailer.
Product specifications
Actors: Dean Cain, Teri Hatcher, Lane Smith, K Callan, Eddie Jones
Format: Box set, Closed-captioned, Color, NTSC
Language: English (Stereo)
Subtitles: English, Spanish and French
Number of discs: 24
Rating: Not Rated
Studio: Warner Home Video
Film Country: USA
DVD Release Date: November 14, 2006
DVD Region Code: Region 1 (U.S. and Canada only)
Building on the Superman myth, this television series from the 90s centers on the young-adult life of Clark Kent (Dean Cain) in the modern-day city of Metropolis. While struggling to balance his Superman duties with his job working for the Daily Planet, Kent meets and falls in love with fellow reporter Lois Lane.
When news breaks of Superman's existence, however, Lane becomes smitten with the elusive superhero and, unaware that Kent and Superman are the same people, wards off Kent's romantic advances. Driven by this odd romantic triangle of sorts, the show also focuses on life around the Daily Planet office, and Superman's battles with a whole host of villains, making it part-romance, part-action/adventure.
==> Learn more about the show <==
…
Positives
DVD
All the 4 DVD "cases"  (and DVD boxes) and the DVD Discs have great designs on them and the designs inside the cases look good.
And the DVD menu is very easy to navigate.
Video & Audio
The episodes play back to back. You will be tempted to see all episodes in a row which is great (at least for me. I don't know about you but I don't like it when you have to play episodes one by one).
The Video quality looks good and the audio sounds great.
.
Negatives
Box & storage
The DVD case is made of a carton with the plastic thing carrying the DVD. It stacking 6 DVDs on top of each other (2 on each side) and closes like a folder (of sorts). Which means scratching the disks if you are not careful.
DVD
Only available in standard DVD format: not available in Blu-ray or any other formats.
Video & Audio
The full-frame of all DVDs is 1:33.1 which is supposed to be traditional television & computer monitor standard but on my flat screen (which has a 1:85.1 full frame) I don't see it full screen. This seems to be the issue with most shows from the 90s.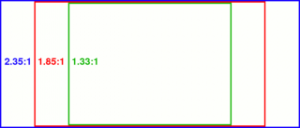 .
Personal experience
I would be lying if I say that I have not seen this show multiple times. Before I got the DVD set I used to look for any available video on YouTube. I have it for 4 years already and it has been used a lot. The special features are my gems. For fans of the show know that you will not be disappointed with the extras. As mentioned before one issue that I have is that a few DVDs are scratched because they don't always stay put in the case. I also had to look out where I store the boxes. As I mentioned the 4 DVD cases close like a folder and you store them in the DVD box. Note that this folder does not close like a proper classic DVD plastic case so you will have to be aware of where you leave them because dust could damage the discs.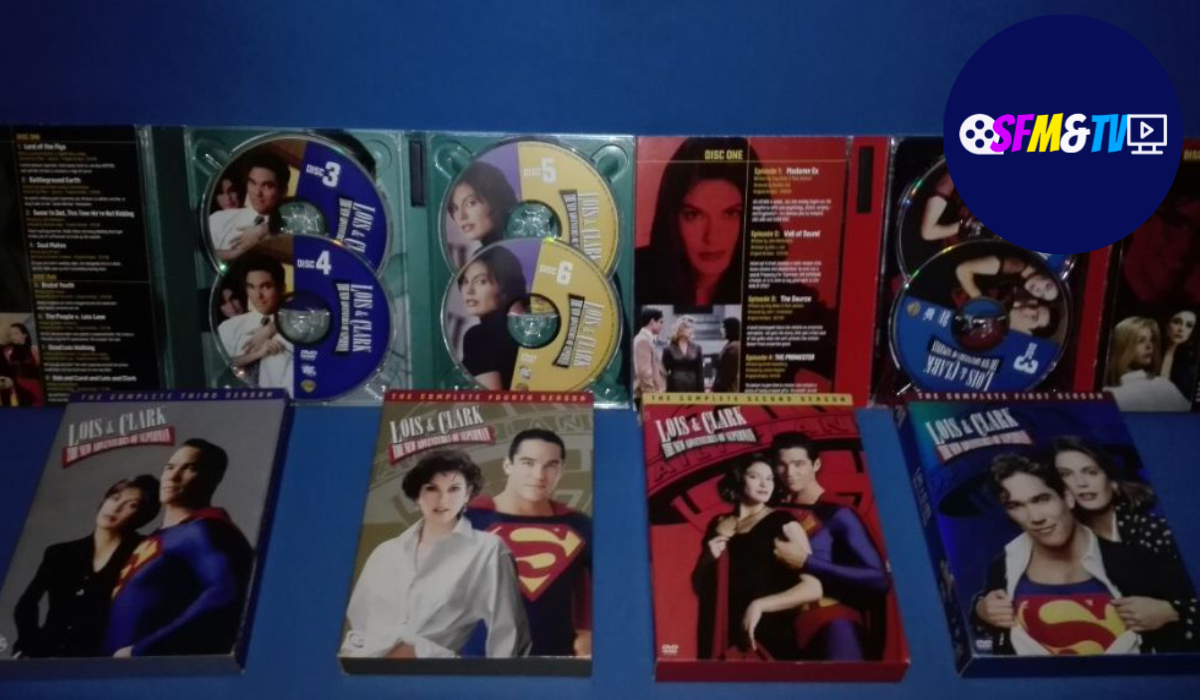 .
Final Overview
Overall Rating
The cases look good but I would have liked them to be of plastic or more durable material. Box & Storage final rating: 75%.
The DVD cases and the DVDs have great designs on them and I appreciated the investment in the design but I just wish it to be available in more formats. DVD final rating: 85%.
The video and audio productions are good but I wish I could see it full screen. Video & Audio final rating: 95%.
The final overall rating for this product is 85%. 
Recommendation
I will recommend this DVD set even though it has a few setbacks, it is still worth it, especially the bonus features.  Each season in this particular set can also be bought separately. You can find the DVD cover pictures in the article I wrote about Lois & Clark.
If you want to buy this set (maybe as a treat for yourself or as a gift for your kids), here is one recommended seller from eBay where you can buy a Brand New DVD set:
Best Seller: USA-deals-are-us on eBay (Ranked Top Rated Plus seller) with 99.9% positive feedback from customers.
Returns: 30 days Money back Return Policy
Guarantees: eBay Money Back Guarantee
Product Condition: Brand New (the item that has never been opened or removed from the manufacturer's sealing).
Shipping: Free Shipping
==> Click here to order your DVD box set <==
I hope you enjoyed this review and if you have any questions about this DVD box set or want to leave your own personal review of the box set, leave a comment below.