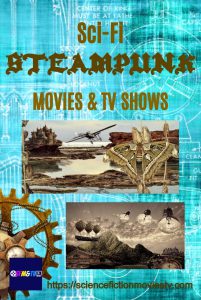 The stories in this category are set similar to the history of the 19th century's American Wild West or British Victorian era in a theme portending a future apocalypse in a fantasy world that employs steam power.
Also, steam punk may include additional themes from the genres of horror, fantasy, alternate history, historical fiction and other arms if speculative fiction thereby making steampunk a hybrid genre.
This genre is one of the oldest Sci-Fi sub-genres to have existed with stories like A Trip to the Moon (1902), 20,000 leagues under the sea (1925) and Impossible Voyage (1904). All these shows were released far back as the nineteen hundreds. Here are more recommendations worth watching:
Movies
Metropolis 

(1927)

20,000 Leagues Under The Sea (1954)
The Fabulous World of Jules Verne (1958)

Time After Time

 

(1979)

Time Bandits (1981)
Brazil (1985)
Young Sherlock Holmes 

(1985)

The Adventures of Baron Von Munchausen 

(1988)

The City of Lost Children (1995)
Sleepy Hollow 

(1999)

Metropolis 

(2001)

Atlantis: The Lost Empire (2001)
Treasure Planet (2002)
The Time Machine (2002)
League Of Extraordinary Gentlemen (2003)
Sky Captain and the World of Tomorrow 

(2004)

A Series of Unfortunate Events 

(2004)

Around the World in 80 Days 

(2004)

Howl's Moving Castle (2004)
SteamBoy (2004)
Van Helsing (2004)

Steam Boy (2004)

Hellboy 

(2004)

Full metal Alchemist The Movies: Conqueror of Shamballa (2005)

The Brothers Grimm 

(2005)

The Illusionist (2006)

The Prestige 

(2006)

Stardust (2007)
The Golden Compass (2007)
Sweeney Todd: The Demon Barber of Fleet Street 

(2007)

Hellboy II: The Golden Army (2008)
City of Ember 

(2008)

Sherlock Holmes 

(2009)

The Extraordinary Adventures of Adèle Blanc-Sec (2010)
From Hell 

(2001)

Hugo (2011)
Sherlock Holmes: A Game of Shadows (2011)
Sucker Punch 

(2011)

John Carter 

(2012)

Abraham Lincoln: Vampire Hunter (2012)

Hansel & Gretel: Witch Hunters 

(2013)

April and the Extraordinary World (2015)
TV Shows
The Wild Wild West (1965)
The adventures of Brisco County, Jr. (1993)
Legend (1995)
The Infinite Worlds of H. G. Wells (2001)
Fullmetal  Alchemist (2003-2009)
Warehouse 13 (2009-2014)
Sanctuary (2008-2011)
Murdoch Mysteries (2008-)
Going Postal (2010-)
A Series Of Unfortunate Events (2011)
Dracula (2013)
Da Vinci's Demons (2013)
Penny DreadFul (2014-)
The Legend of Korra (2012-2014)
Jekyll and Hyde (2015)
Have you seen any movie or TV show above mentioned already? What did you think of it? Feel free to leave your comments. I would love to hear from you.