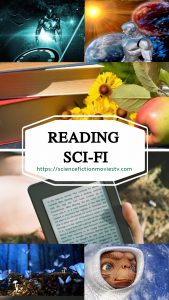 Since talking about TV shows and Movies is watching them on the big screen, why should we then talk about reading?
Oftentimes while watching movies, we find it hard to comprehend what we are watching and we tend to misinterpret the scene.
This is why we need to talk about reading. Provided you have the right information, reading makes it much easier for you to understand what you are watching.
Unfortunately, in the era of social media today, one cannot easily obtain the right information. If you want the right information, then you may need to search for information and then compare your sources. While this may seem like too much work to do, it's worth the time and effort.
Likewise reading available source material helps a lot. Also, you have the right to choose when you want to start your readings: you can read before watching the TV show or after watching. Reading before watching the TV show and after watching the TV show both have advantages and disadvantages, it all depends on the story.
Now the question is, what kind of stories should we read?
You can read stories of your favorite characters. Stories that explain their background, and how they came to be who they are. You can also read behind the scenes stories, books the show is based on, comics the movie is based on and fan-fictions.
Besides DC and Marvel, there are other comic books in the fantasy genre and science fiction that you can read. There are good books like The Adventures of TinTin, Akira, Ghost World, Uncle Scrooge, Lumberjanes, The Walking Dead, Saga, Preacher and Sin City.
Often, filmmakers do not end stories in TV shows or movies the way we want it to end. So some fans who cannot sit still or accept the story the way it ended result to rewriting the story and tag it a fan fiction. For some years now, fan fiction has been gaining popularity. Although fan fiction is rarely authorized by the creator or producer of the original work, as such, it's hardly published professionally.
Fan fiction may or may not break the copyright of the original creator depending on the rights and questions as whether or not the book passes as fair use. The attitudes of copyright owners and producers to fan fiction have ranged from encouragement to indifference to rejection. In turn, copyright owners have slammed fan fiction creators with legal action.
Some years back, I was of the opinion that fan fiction was just an invention that will go away with time but the creators of fan fiction have managed to convert these stories to books thereby gaining much popularity. So you won't know if you are reading the next future bestseller. When I read Master of the Universe, a fan fiction story, I didn't realize that the story would come back to become 50 shades of grey.
If you can just search a little further, you will find books about your favorite TV show or movie that will interest you. I've compiled a few that might interest you : Sci-Fi & Fantasy Movie/ TV shows stories.