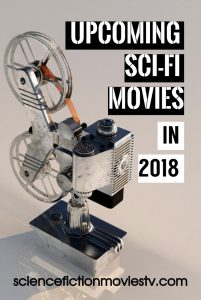 A new year, a new opportunity to show new cinema. Whether it is solely for entertainment or for having social commentary in the story there are many Sci-Fi movies to look forward to.
You probably heard about some films already. Those are most certainly the most anticipated blockbusters and have a budget for promotion either way. Here we won't discriminate and will mention some known titles as well as some less known, probably smaller films, that will release in 2018.
First, let's take a look at some titles from well-known brands that will be releasing this year.
Avengers Infinity War
The Avengers & Co. will face the greatest battle of all times. We probably want different endings for our favorite characters.  The first successful superhero team franchise, an inspiration for others, showing that a superhero team ensemble can work. We don't have to say much about this movie, the trailer tells more than enough. Release date: April 27, 2018.
Black Panther
The films will tell the story of T'challa and his preparation to become king. We will be introduced to Wakanda which has many riches the outside world doesn't know of. It is the first superhero movie from Marvel with an almost complete back cast. Looking at the trailer the quality of the work so far seems off the charts. Release date: February 16, 2018.
Spiderman: into the Spiderverse
Another Spiderman movie? Yes, and it looks great. This time it's a 3D computer animated version based on the comic book character Miles Morales. Miles struggles with his life of being a Spiderman while being in high school. In this story, Miles becomes Spiderman after the death of the first Spiderman "Peter Parker". Release date: December 14, 2018.
Ant-man and the Wasp
After the success of the first Ant-man movie (2015), there was no doubt that there is going to be a sequel. This time Ant-man will work with the Wasp. It would be interesting to know more about the background story of the Wasp. Release date: July 6, 2018.
Deadpool 2
Deadpool (2016) was a surprise for many movie watchers. Strangely this r-rated movie became successful and Deadpool as a new character was interesting and entertaining to watch. The adult jokes and comments worked and it's also why we're expecting this sequel to be even more hilarious. Release date: May 18, 2018.
Venom
Staying in the trend of standalone movies, here comes a story of Venom, a known villain in the Spiderman Universe. It is not from the same creator of the recent Spiderman movie so we probably won't get a shared universe but it will be still interesting to see a movie based on a villain and probably understand his background story. Release date: October 5, 2018.
X Men: Dark Phoenix
A sequel to X-Men Apocalypse, this time they will show the full power of the Dark Phoenix which appears to be a more faithful adaptation of the Dark Phoenix Saga. There is a possibility that this could be the last time we will see this version of X-Men based on the Disney's Fox acquisition. Release date: November 2, 2018.
Solo: A Star Wars Story
This is a standalone film will tell the adventures of Han Solo and Chewbacca before going the rebellion. The film will be the second Star Wars anthology film and is set prior to the events of the 1977 film. Release date: May 25, 2018.
Pacific Rim Uprising
Sequel to the 2013 film Pacific Rim, the film takes place ten years after the first film. After the victory of the final battle in the first film, the Jeager program has evolved into the most powerful global defense force in human history.  A giant monster movie film with a release date of March 23, 2018.
Jurassic Park: The Fallen Kingdom
Sequel to the Jurassic World 2015, this time a volcanic eruption on the island will threaten the life of the dinosaurs. Clair Dearing (played Bryce Dallas Howard) has founded the Dinosaur Protection Group and she will recruit Owen Grady, played by Chris Pratt, to help her rescue the remaining dinosaurs on the island. Release date: June 22, 2018.
The Cloverfield Paradox
The film was previously titled "God Particle." It is the third installment in the Cloverfield franchise. 10 Cloverfield Land (the second installment) marketing campaign included a sound clip that was supposedly from the International Space Station. Release date: February 2, 2018.
Cloverfield 4
On the eve of D-Day, American paratroopers are dropped behind enemy lines to carry out a mission crucial to the invasion's success. But as they approach their target, they begin to realize there is more going on in this Nazi-occupied village than a simple military operation. They find themselves fighting against supernatural forces, part of a Nazi experiment. Release date: October 26, 2018.
Maze Runner: The Death Cure
Sequel to the Maze Runner: The Scorch Trials and the third and final installment in the Maze Runner Franchise. On the last mission to get answers and potentially be free, Thomas, played Dylan Obrien, leads his group through the deadliest maze of all. Release date: January 26, 2018.
Bumblebee: The Movie
The film is a spinoff the Transformers franchise based on Bumblebee and at the same time, it is a prequel to the first installment of the franchise. It takes place twenty years before the events of Transformers (2007). Bumblebee is living in a small California beach town junkyard with no issues with the form of a Volkswagen Beetle until a teenage girl discovers him. Release date: December 14, 2018.
The Predator
The fourth installment in the Predator franchise takes place between Predator 2 (1990) and Predators (2010). If you don't remember or don't know what Predators are, they are basically a merciless alien race that takes pride in hunting inferior races. Release date: August 3, 2018.
2.0
This is an Indian sci-fi musical and is the sequel to Enthiran (2010). It is the first Indian film that is directly shot in 3D and the most expensive Indian film made to date. Dr. Vaseegaran, played by Rajinikanth, is forced to reassemble Chitty, an android created by him, in order to stop a new menace. Release date: April 13, 2018.
Well, there you have them, the films that are sequels or are part of a known property in the cinematic world. Now let's look at some upcoming movies that are based on a (well) known anime, manga, novel or video game. Yes, we have those too.
Ready Player One
The film is based on the 2011 novel of the same name and is directed by Steven Spielberg. The population on earth spends most of its time in an interconnected virtual reality called OASIS. Release date: March 30, 2018.
Annihilation
The film is based on the 2014 book of the same name written by Jeff Van der Meer. A group of soldiers enters an environmental disaster zone, only one soldier comes back out alive but is seriously injured and gets worse. Wanting to save his life, his wife Lena, a biologist, played by Nathalie Portman, volunteers for a second expedition into the disaster zone to figure out what happened to her husband and possibly create a cure. It looks awesome! Release date: February 23, 208.
Mortal Engines
Based on the novel of the same name by Philip Reeve the story is set Thousands of years after civilization was destroyed by a cataclysmic event, known as the Sixty Minute War,  humankind has adapted and a new way of living has evolved. Gigantic moving cities now roam the Earth, ruthlessly attacking and devouring smaller towns to gain more resources. Release date: December 14, 2018.
The Meg
The film is based on the 1997 novel Meg: A Novel of Deep Terror by Steve Alten. A former naval captain and expert divers, played by Jason Statham, is recruited for a deep sea mission to rescue Chinese scientists who are under attack from a 70-foot white shark known as megalodon, an extinct shark species. Release date: August 10, 2018.
Alita: Battle Angel
The film is based on Yukito Kishiro's 1990 Battle Angel Alita Manga and produced by James Cameron.nit will tell the story of a young woman's journey to discover the truth of who she is and her fight to change the world. Release date: December 21, 2018.
Rampage
The film is based on the video game franchise of the same name. I'm not going to tell much about it since I find it kind of silly to describe. Just watch the trailer and you'll understand what I mean. Release date: April 13, 2018.
The Darkest Minds
The film is based on the 2012 young adult novel of the same name written by Alexandra Bracken. After a disease kills almost all America's children, the few that services develop superpowers and are placed in a brutal government rehabilitation camp. A 16-year-old girl escapes her camp and joins a group of other teens that are running from the government. Release date: September 14, 2018.
Let's finalize this list with films which are basically unknown Sci-Fi properties that have the potential to be either good or bad in 2018.
The Beyond
This is a Sci-Fi indie film loosely based on the 2014 short film "Project Kronos", a documentary film following a mission to achieve interstellar space travel. A groundbreaking mission sends robotically enhanced astronauts through a wormhole. When the mission returns early, the space agency tries to discover what their astronauts encountered. Release date: January 9, 2018.
Mute
The story of this sci-fi noir film is set in a future Berlin where a mute bartender, played by Alexander Skarsgård, has to trust a pair of American surgeons as he searches for his missing girlfriend, Naadirah. In order to find out what happened to her, he must go up against his city's gangsters. The movie will be released on Netflix on February 23, 2018.
Replicas
Will poster, a synthetic biologist, played by Keanu Reeves, becomes obsessed with bringing his family members, who died in a car accident, back to life. And will go against everything that will prevent him achieve his goal. Release date: June 15, 2018.
Captive State
Nearly a decade after an occupation by an extra-terrestrial force, the film explores the lived of both sides of the conflict, the collaborator, and dissidents. Release date: August 17, 2018.
There is a lot coming to the cinema in 2018 for all tastes in Sci-Fi. Which of these are you most excited to see? Which film do you find most interesting to check out? Feel free to leave your comments. I would love to hear from you.
Source: IMDb and Wikipedia