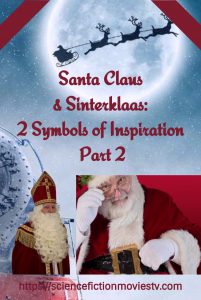 Saint Nicholas was typically described as a tall, thin, bearded cleric. So how did he evolve into the Santa Claus we know today?
Santa's white beard and red suit are actually quite similar to the bishop's attire worn by the Dutch Sinterklaas.  But the "chubby and plump" appearance of America's Santa Claus is generally traced to the 19th century poem "'Twas The Night Before Christmas" which basically attempted to create a more friendlier image of Santa and assure children that they had nothing to fear.
Many already know the story of Santa's Helpers "the Elves" (small people) working in Santa's  gift workshop and the reindeers that help Santa movie the sleigh. Unlike Sinterklaas helpers, the Santa Claus helpers haven't face strong controversies about their appearance. Even though they are portrayed as small people working in a factory.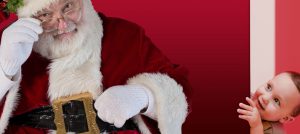 The 24th of December is the night Santa Claus goes from rooftop to rooftop, shoehorning himself down the chimney to deliver presents. Children wired on sugary treats, grandiose consumerist fantasies and sleep deprivation hoping to catch a glimpse of Santa.
The correlation between Santa Claus and Sinterklaas
Santa Claus is a fictional character created from a mixed bag of Sinterklaas (Saint Nicholas) and Father Christmas, the anglicized Santa Claus made his debut in the New World shortly after Dutch colonization of the Americas. Coincidence? I don't think so.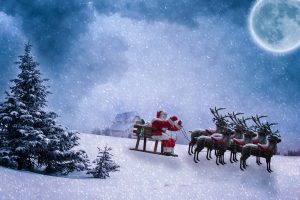 Santa Claus dresses for comfort rather than style in a red two-piece with white trim and a thick black belt. Footwear-wise, he's a big fan of the sturdy boot, and his big gift bag is rarely out of sight. Santa's transportation consists of a sleigh and nine flying reindeers (including red-nosed Rudolph).
Santa's workshop is in the North Pole, although pretty much every Nordic country seems to want to claim him as its own true son. There's a Mrs. Claus back home and she's great with the reindeers. In the end Santa would rather give you the benefit of the doubt and leave you a little something under the tree.
Santa Claus: the Myth
Though the modern Santa Claus has evolved into a mythical fantasy figure, his image can serve to help us remember the real St. Nicholas, a man who devoted his life to serving God and inspiring others to do the same.
But let's be honest, Christmas magic as they call it only comes for those with money to buy it. So much has changes over the years where people don't really think about how they treat each other, whether or not we are healthy and whether or not we have a peace of mind.
The Holiday became a great circus of commercialization. Despite all this, there are still people who believe in helping others who don't have the means to celebrate this holiday and see Santa as an inspiration.
Final Thoughts
Children in countries of the Dutch Kingdom and Belgium are lucky because they receive gifts during the Sinterklaas parties and may or may not receive gifts on Christmas day. On Christmas Eve night, Dutch Children believe that Santa Claus, who is called "Kerstman" to avoid confusion with Sinterklaas, comes from Lapland in Finland to deliver more presents.
So many gift receiving is cool for the kids, but not so cool for the parent's budget but there are ways to keep the children in suspense and motivate them to behave well. One important thing to remember is the message behind the gift giving of Sinterklaas and Santa Claus. It is not about how expensive the gift is, it's about the meaning behind that gift, what it represents: bringing joy into children's hearts.
Since we are starting to get into the Holiday mood and in order to stay under the Sci-Fi & Fantasy movie umbrella (I know I deviate a little with these articles about Sinterklaas and Santa Claus but I wanted to give you the distinction to build up to the magical Christmas period) expect the upcoming articles to have a dose of Christmas spirit.