Decorate your bedroom, office or your home with your favorite movie or TV show. Not a bad idea, right? On this page you will find a few options to consider.
E.T. Moon Woven Tapestry Blanket
Keep warm on your next moonlight bike ride! Whether you drape this decorative throw over the back of the couch or use it to cuddle up, enjoy the woven design featuring classic imagery from E.T.. This E.T. Moon Woven Tapestry Blanket measures approximately 58-inches long x 36-inches wide.
HD Print Wonder Woman 2017 Gal Gadot Art Home Decor Oil Painting On Canvas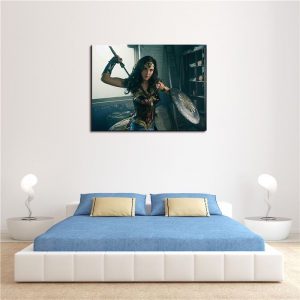 This 24"x32′ size High Quality Canvas Print comprises of several small sections making up one large when placed together.
Can either be mounted directly or onto artist mount board and then placed on the wall.
Using the best printing equipment to give you a finished product of highest standard.
Package included: 1* Set Canvas Print (Rolled In Tube, without frame).
Aquaman Justice League Movie Pint Glass
And it's only fair, considering Aquaman just pulled you and your seventeen cousins from a sinking shrimp boat. He prefers vodka. A lot of vokda. Buy the whole bottle is what I'm saying. So, when he hands you the Aquaman Justice League Movie Pint Glass, fill it to the brim unless you want to be mortally gnawed upon by sand crabs.
This Aquaman pint glass features an image of actor Jason Momoa's Aquaman wearing that expression of terrifying determination while wielding his mighty, very pointy scepter. On the other side of this clear Justice League pint glass, the official "JL" shield rendered in that weathered granite/steel hybrid.
What do you think of these products? Will you consider buying it? Feel free to leave your comments. I would love to hear from you.