Would you like a handbag designed with themes of your favorite movie or TV show? This is the place for handbags lovers that are also in love with sci-fi movies/TV shows. Enjoy!
Wonder Woman Costume Inspired Handbag
Move through your day feeling as powerful as Wonder Woman.
Show off your superhero confidence with this handbag while keeping all your tools close by.
It features an elegant design, inspired by Wonder Woman's movie outfit and has plenty of space for all your belongings.
Star Wars Boba Fett Purse
Faux leather handbag with printed, embroidered and applique details. Measurements: w: 13.5-inches x h: 9.75-inches x d: 6.5-inches.
Star Wars Chewbacca Messenger Bag
Carry around your laptop just like Chewbacca would on Kashyyyk! No proud Wookiee would be caught dead without this excellent Star Wars Chewbacca Messenger Bag.
Featuring beautiful faux leather with an adjustable 36-inch Chewie bandoleer strap to give the bag its Chewbacca flair, the bag measures 15-inches wide x 10-inches tall, making it perfect for holding a 14-inch laptop!
With 3 inside storage compartments, a zippered inside compartment, and inside pockets for your phone, keys, or iPad, the messenger bag also comes with both magnetic closure and two-buckled closure. It's also got a burnished Star Wars logo, giving that extra little something that you need for all Star Wars products of this quality.
Star Wars Reusable Shopping Tote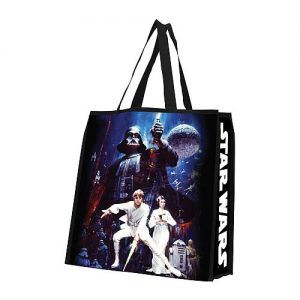 This Star Wars Reusable Shopping Tote is Earth friendly (made of 25% recycled materials), strong, and water resistant.
Terrific for shopping and a clever alternative to the traditional gift bag, it measures 15-inches tall x 14-inches wide x 4-inches long.
The strap on the shopping tote features a 9-inch drop, and the image is absolutely stunning! Wipe clean with damp cloth. Made from polypropylene.
Star Wars Hoth Collection Han Solo Inspired Kisslock Bag
This bag features a metal Rebel Logo on one side and a metal Star Wars tag on the other side.
Measures: 11″L x 9.75″ H x 4.5″ W. Strap Drop: 22″.
Comes with a Bioworld dustbag!
Black Panther Movie Logo Satchel Handbag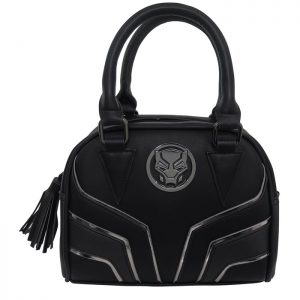 Perfect for royal galas, and deflecting bullets.
The Black Panther's 'fashion scientists' really outdid themselves with the Black Panther Movie Logo Women's Satchel Handbag. Yes, this fashionable, functional mini handbag is so immaculately constructed, every Wakandan fashionista has one dangling from their elaborately painted wrist. Reflecting the king's Black Panther vestments, this black Panther satchel handbag for women offers incomparable utility through aesthetic simplicity. Let's break it down:
The exterior
A raised, solid-metal Black Panther symbol!
Black, elevated, and carefully stitched stripes lined with silver borders and filled with bumpy ballistic fiber — this represents flexible armor plating blended with Vibranium.
A metallic, rectangular "MARVEL" badge.
Two stitched handles with chrome-metal hinges.
Adjustable shoulder strap with solid metal buckle.
Zip-up closure by way of tail-like tassel!
The interior
Brightly colored lining sporting a royal tribal pattern layered with ancient panther idols — an obvious homage to the power-gifting Panther deity and a zip-up pocket along said lining.
More awesome details regarding your new Black Panther handbag!
Made from a leather-like blend of polyurethane and polyester.
Measures 9″ across, 7″ high, 3.5″ deep.
Handles – 5″ high.
More Details
Color: Black
Licensor: Marvel
Style Attributes: Symbol
What do you think of these products? Would you consider buying one of them? Feel free to leave your comments. I would love to hear from you.