Wanting to have a reminder of your favorite show or movie? How about wearing your favorite show or movie? On this page you will find a few options to consider.
The Avengers Comic Pop Women's Tank Dress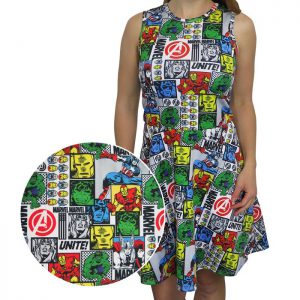 A fashionable, multicolored piece of wearable pop culture, the Avengers Comic Pop Women's Tank Dress features a multitude of classic comic book iterations of three preeminent Avengers!
Made from 95% polyester and 5% stretchy spandex, this stylish, Avengers-inspired tank dress features images of Iron Man, Thor, and Captain America rendered in soft but eye-catching colors, interspersed with Avengers symbols, MARVEL logos, American flags, and the call to "UNITE!"
These images are pulled right from the pages of classic MARVEL comics complete with dotted and striped panels, and floating hero heads usually located on the upper left corner of MARVEL comic covers.
More Details
Color: Multicolored
Apparel Type: Dress
Licensor: Marvel
Style Attributes: Symbols & Images
Spider-Man Comic Pop Sublimated Women's Dress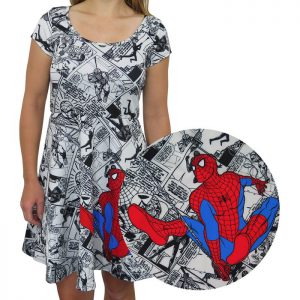 It features an unending mosaic of classic and sizable, gloriously black and white Spider-Man comic book panels. You can practically smell the news print!
It features a massive, full color image of Spider-Man swinging past his repeating pattern of classic comic book occurrences!
The graphics are sublimated, meaning the colors are infused into the fabric. This means they stay brighter, longer! It's made from 95% polyester and 5% spandex!
If you consider yourself a fan of high-fashion, Spider-Man, and his many amazing adventures during the heyday of comics, this Spider-Man dress is….yep, it's calling your name.
More Details
Color: Balck & White, Red & Blue
Apparel Type: Dress
Licensor: Marvel
Style Attributes: Images
Justice League Movie Badge and Icons Men's T-Shirt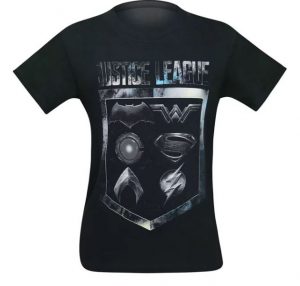 The cinematic Justice League sport a slick, modern look extending to their character symbols carved from gleaming granite and treated with tempered steel.
Case in point, our Justice League Movie Badge And Icons Men's T-Shirt features every glorious, Earth-carved and steel-molded hero symbol representing the appropriate super-person who begrudgingly agreed to Batman's team-up.
Made from 100% cotton, this black t-shirt for men conveys the darker tones of the Justice League movie beset with realistic symbols made official by a framing badge.
More Details
Color: Black
Apparel Type: Short sleeve T-Shirt
Licensor: DC
Style Attributes: Symbol
Wonder Woman Movie Logo Women's 3/4 Sleeve T-Shirt
Strength. Love. Grace.
These are three sacred tenets desperately imparted by Diana to a mostly disinterested (and kind of dangerous) mankind are residing on the back of this T-shirt.  If you want to spread the message — three simple words that convey an immutable emotional foundation upon which to reinvigorate society
With a soft and sheer body made from 53% cotton and 47% polyester, this Wonder Woman Movie Logo Women's 3/4 Sleeve T-Shirt contains said words and equally inspiring Wonder Woman accents.Let's break it down:
A bold, modern-day Wonder Woman symbol! It's purposely distressed and outlined in black.
Sporty 3/4″ sleeves! With 100% cotton sleeve inset panels, each maroon sleeve is wrapped in white, meticulously stitched stripes.
Equally maroon collar!

Equally sporty and curved hemline!

Because the best way to express these tenets is through words that inspire discussion, compassion, and perhaps a revolution with more hugs than gunfire.
More Details
Color: White
Sleeve Type: Long sleeve/Raglan
Licensor: DC
Style Attributes: Symbol