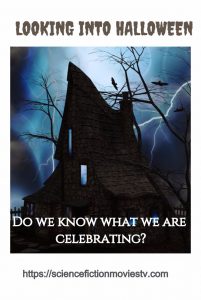 The origin of Halloween can be traced back to Christianity and it's a popular celebration on October 31. Halloween is observed in a number of countries like Europe, Asia, the United States, and Canada.
In fact, some of these countries have overtaken the American design. Unfortunately today, people are more concerned about consuming foods and products and have neglected the true reason and purpose of the Halloween celebration. Therefore let's take a look at Halloween.
The Halloween celebration takes place a day before the Western Christian feast of all Hallows Day that is observed on the 1st of November. All Hallows day is a Christian festival that is observed to honor and remember all saints. The Hollow celebration is a component of the Allhallowtide.
The Allhallowtide is the father of the Halloween celebration observed on October 31, 2017, the Hollows celebration observed on November 1 2017 and the Day of the Dead observed on the 2nd of November. The Allhallowtide is the occasion to honor the dead, including the saints, martyrs, and all faithful Christians that have departed.
Instead of honoring and remembering our departed family and friends during the Halloween celebration, we have turned the occasion into a party. We have turned it to the time we get high, and have a hangover the following day. Then we recover from the hangover and go back to work.  During this process when do we have time to honor our departed loved ones? Do we take time to visit their graves and drop flowers? Do we pray for them? I know some people do but let's be honest for most people it's just another reason to party (nothing else).
It's saddening that vandalism takes place in the cemeteries during this time. We tend to forget the importance and essence of the occasion. We find it fun to dress up and merry and we have forgotten the importance of the holiday period.
There are quite a number of ways to honor and remember the dead. One way is to bring out their favorite things to play with. We can bring out their favorite movies to watch, it could be movies from the 60s, 70s, and 80s like Frankenstein, Bride of Frankenstein, Invisible Man, Wolf Man, and some Alfred Hitchcock movies. These are some of the movies people watched during the Allhallowtide holiday. This is one way out of the many ways you can remember the departed.
Just like every other holiday season, the Halloween season also has importance. We should be conscious of this importance so we will know what we are celebrating.
I believe by now, you know the reason behind the Allhallowtide. Are you willing to celebrate it in truth? How do you feel about the way people celebrate the Halloween holiday today? Feel free to comment in the comment section below. I would love to hear from you.