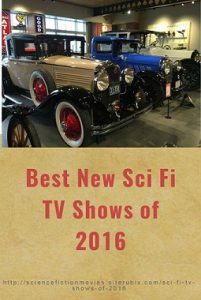 We have seen many  new TV shows in 2016. Some didn't survive the first round and were cancelled. Others got lucky and went to the next round. I must say I am very grateful for Netflix, Amazon and Hulu who provided more opportunities for producers, editors and writers to air their shows on their streaming platforms.
For a fan it is really irritating to know that they cancel your favorite show. With this competition on the market many project went from traditional TV to Netflix, Amazon and Hulu. Most of my favorites got renewed so I got to watch them in 2016. Here are my top pics of new 2016 sci-fi TV shows:
At first I was skeptical since I'm already hooked with the flash and legends of tomorrow(which falls into the  time travel category). What I find interesting is the dynamic of the team that has to go back in time during many missions to stop the villain of the story. What is interesting to see is that each time they go back and change something in the past when they come back they see their current timeline altered.
I started watching this cyberpunk shows out of curiosity to know how to story unfolds.  Men used technology to create humanoids that live in a fantasy reality of the West. You can pay to enter that digital world and make your fantasies come true. There is no morality so if you're fantasy is to kill you'll be able to do it. It made me sit back and think. Could we go so far as society and accept something similar to this?
Do you agree? Which of the 2016 new sci-fi TV shows got you hooked to your screen? Feel free to leave your comments. I would love to hear from you.
Save